Characteristics of Alcántara lake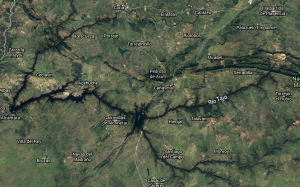 With a capacity of 3160 hm3 and a flooded area of 10400 hectares, Alcántara lake is the largest in the province of Cáceres and also the third largest lake in Spain. As it is a reservoir intended for the production of hydroelectric energy, level changes are frequent and very pronounced. Its average level ranges from 1800 to 2600 hm3, although it frequently reaches levels above or below these. Do you want to know the level in real time? Click here.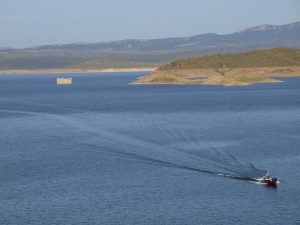 The waters of the Alcántara reservoir are clear in winter but from spring onwards the turbidity begins to grow due to the proliferation of suspending algae.
During the summer months the turbidity is very high due to the high concentration of these algae.
Finally, it should be noted that it is a reservoir in which we can see a good number of endangered species such as the black stork or the Bonelli's eagle.
Bottom composition and structures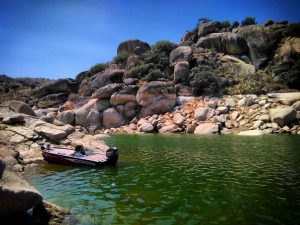 We have 2 clearly differentiated areas with granite and slate bottoms. The granitic zones are characterized by the alternation of large rocks with rounded contours and sandy beaches, while the slate zones present different levels of degradation. We can find both "rip rap" zones with small stones and zones where the rock remains "whole" forming textbook points with different slopes. Also we can find very interesting areas near the riverbed, with a 45 degree angle, sometimes with hundreds of meters long.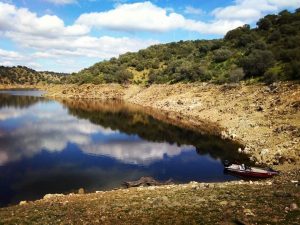 The reservoir is quite boxed in, we find really deep areas and the average slopes are high, with generally quite steep banks. The majority of the creeks are very small, although we also find long creeks of several kilometres with more stretched out areas. We have here almost every kind of structure so we can choose one or the other as we see fit.
Vegetation and cover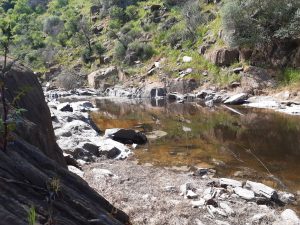 We found a good density of submerged trees (mainly holm oaks and wild olive trees) at different depths. Practically whatever the level of the reservoir we can find this type of cover in different areas of the reservoir. However, it is when the reservoir is low that we can see the greatest density of trees on the surface.
Due to the great changes in level, underwater vegetation is not frequent except at the mouths of small rivers and seasonal creeks.
Main fish species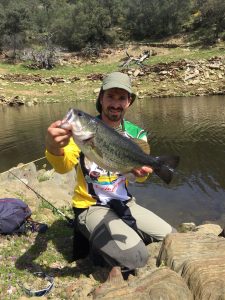 It is probably the reservoir with the greatest variety of sport species in the community, housing in its waters very interesting populations of most of them.
Black Bass. The population is very abundant, although it is not a reservoir in which the "record" specimens abound, we can enjoy days with multiple catches of medium size. Of course a +2kg is possible, even +2'5kg if we are very lucky.
Zander. We also have very interesting populations of this predator, both in quality and quantity.
Catfish. Present in these waters since approximately 2010, the size of the specimens has grown ostensibly reaching more than 2 meters the largest specimens.

Catfish Alcántara

Pike. It has been present in the reservoir for dozens of years, although it has never reached significant densities, we can find good-sized specimens.
Iberian barbel. Due to the interesting populations of bleak and crawfish, it reaches really big sizes, being able to be fished both with lures and with other techniques (carpfishing, feeder, match fishing, fly fishing…)
Carp. They are also very abundant in this reservoir, although the largest specimens do not usually exceed 10kg.
Baitfish in Alcantara lake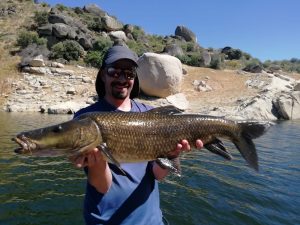 The bleak has been present in Alcantara for quite some time and its populations are growing a lot in recent years, forming an important part of the diet of many predators.
The density of crawfish is also high, although they are usually deep and are not often seen on the shore or in surface layers. There are also sunfish and crucian carp in good densities.
Access and navigation
A significant percentage of the reservoir is inaccessible to fishing from the shore, either because of its steepness or because we find very large private properties in it, from which we cannot access the water.
Both motorised and non-motorised sailing is permitted, subject to application for a sailing permit from the CHT. Before sailing, check the many limitations that exist, especially in the first half of the year as most of the Alcantara reservoir is part of an SPA (Special Protection Area for Birds).