Alange lake was always famous for its great pike, however in recent years it's easier to get hold of a good barbel or quality black bass than a great pike. Below I show you the best lures for Alange based on my experience, mainly focused on these 3 predators.
Hard jerkbait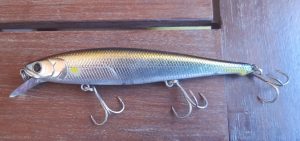 Hard jerkbait, once again, is a versatile lure that we can use in almost any scenario. The abundance of bleak in Alange lake makes it an even more interesting option. I like to work it very quickly from the post-spawn to trigger the reaction bites. Barbels, pike and black bass, any of the 3 predators can be caught with this lure.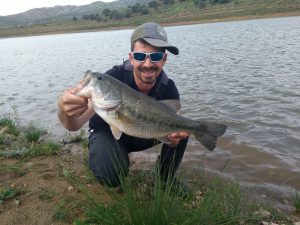 Sometimes, I even use floating models to get rid of weeds or stones more easily. As the water gets colder, the suspending jerkbait becomes the headline, as it allows me to make stops of different duration. In terms of colours, Alange is not usually a reservoir that stands out for the clarity of its waters, so I usually opt for solid colours. Imitations of bleak, barbel or crucian carp will always be a safe bet, being able to choose more striking colors if the water is specially murky.
Crankbait, lures for Alange
This reservoir is not characterized by a high density of fish. Sweeping water with a crankbait will often be the best option to locate them. Alange is a reservoir in which the fish are not particularly suspicious, and although they can of course reject it, they will often take the crankbait without any problems.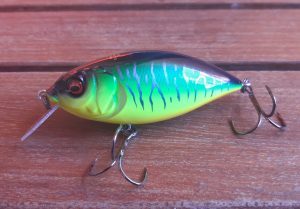 Since there are both crawfish and bleak, we can pull imitations of both, although always with an eye on the color of the water. In turbid waters, brighter colours, both red and firetiger type can work well. As the reservoir is quite deep on most of its banks, it is usually not necessary to use very deep cranks, unless we are going for suspending fish. Squarebills and midwater cranks are usually sufficient, as long as the fish are near the shore.
Vinyl shad
If we want to fish deeper, both barbels and pikes, the vinyl shad is a guarantee of success. Barbels in this reservoir are really aggressive, triggering bites that sometimes take the rod out of your hands. A good echo sounder and knowledge of friendly areas are key to improving the results with this kind of fishing.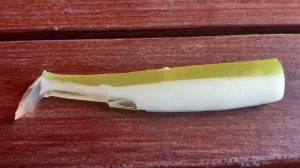 If the main target are barbels, I prefer to use medium sized shads (4″ or 5″), but if I go for pike I can go up to 6″ or 7″ without problems. We can fish dragging on the bottom, let it come down and retrieve it to a certain depth, or even fish vertically without moving the lure at all. It all depends on the attitude we see in the fish, many times a slow retrieveng from the bottom to the surface can also trigger bites. As far as colours are concerned, I prefer imitations of barbels or bleaks, sometimes with a chartreuse touch if visibility is low.
Vinyl worm, lures for Alange
We are in a reservoir where the waters get very hot in summer, and where medium sized fish are also abundant. So the vinyl worm cannot be missed. We can fish by dropshot if the fish are very deep, by split shot if they are half water or weightless if they are on the same shore or very shalow. In addition, the abundance of weed makes a worm falling slowly among them a very appetizing morsel.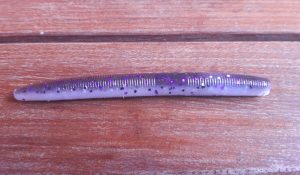 In terms of sizes and colours there is something for everyone, however here are my favourite options. If I go fishing without weight, I prefer "senko" worms for waky rig. For split shot fishing, I like worms with a vibrating tail like U-tail, C-tail or similar, so that the fish can locate them from distance. For dropshot fishing, we can use either small 3″ or 4″, even small vinyl shads without paddle tail. The colours will vary depending on the turbidity of the water.
I hope that these tips have been useful and can help you to have better results in future journeys.