Characteristics of Zújar lake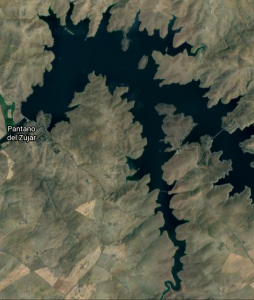 At the time of its construction, Zújar lake had a capacity of 700 hm3 , but after the construction of La Serena (La Serena lake was built in the middle of the Zújar reservoir section) its capacity was reduced to 309 hm3 and 1449 hectares. Do you want to know its level in real time? Click here.
Its main use is irrigation, supplying water to more than 4500 agricultural hectares, although it is also used for the supply and production of electricity. It is a reservoir of rather clear waters, with frequent changes in level due to water releases of La Serena, depending on the needs of the moment. These changes are not usually too drastic and the level usually varies between 220 and 280 hm3.
Bottom composition and structures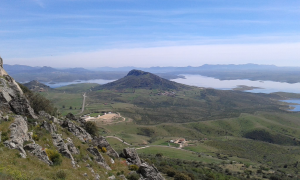 Like La Serena, the reservoir is located in an area of plains with few trees, but here the River Zújar is a little more boxed in and the slopes are steeper. In a large part of the reservoir we find bare rock (mainly slate and sandstone) at the bottom, although we also find some areas of beaches.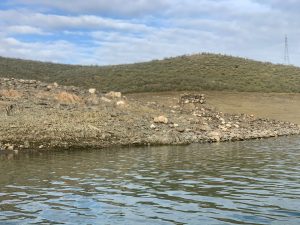 There are several islands, at different depths and some small cuts near the dam, but it is not a reservoir where rock structures abound, as the banks are not too steep.Also we can find some remains of human constructions, not too many but for that reason they are usually good spots for predators. There is also an emerged bridge and two submerged ones, in whose surroundings there is usually fishing.
Vegetation and cover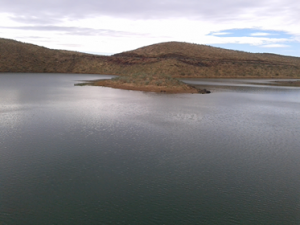 We hardly find trees, bushes and other submerged wooden covers, however underwater vegetation does abound, providing excellent cover for fish. Here we can find seaweeds of several tens of meters, not excessively thick and very nice to fish.
The banks are surrounded by eucalyptus in many areas, but the waters rarely reach their level.
Main fish species
It does not have the reputation of Orellana or La Serena, and probably not their densities of quality fish, but it can give us some surprise if we devote the necessary time.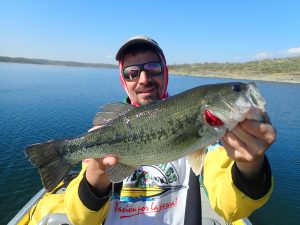 Black Bass. There is a good population of black bass, although there are not many, and with a rather small average size. However, an interesting number of specimens exceed 2 kg in weight, some even exceed 3kg.
Pike. The density of pike is not exaggerated either, but they also reach good sizes, and it is possible to catch pike above one metre in length.
Channel catfish. As in La Serena, it abounds in these waters, reaching very good sizes.
Barbel. There is quite a lot of barbel, probably less than in La Serena but it is "easier" to capture large specimens since there is less density of small ones.
Carp. Abundant in the reservoir, although less than in La Serena because it has far fewer kilometres of shore to feed on.
Baitfish in Zújar lake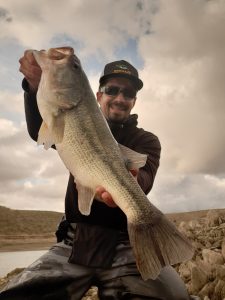 There's a lot of bleak in the reservoir, providing extraordinary food for all the predators. We also find banks of small cyprinids (carp, crucian carp, barbel…), mainly in summer and of course crawfish and sunfish.
Catfish are really abundant in all sizes and can be considered both prey and predator.
Sometimes there are a lot of predators real far from the shore because of they are feeding on schools of small fish.
Access and navigation
Navigation is permitted except near the walls, the Zújar reservoir itself and La Serena reservoir.
The banks are not as easily passable as those of La Serena, although we can walk along most of them without problems. The accesses are more limited and we will have to walk several km if we want to access certain areas.