Characteristics of Gabriel y Galán lake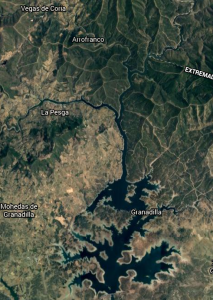 With a capacity of 924 hm3 and a flooded area of 4683 hectares, Gabriel y Galán lake is of considerable size, and is located in the north of the province of Cáceres. Its main use is the production of hydroelectric energy, but it is also used for irrigation and drinking water supply. Level changes are frequent and marked. Its average level is between 300 and 700 hm3 although it is relatively frequent that its level goes out of these ranges, especially in very dry or very rainy years. Do you want to know the level in real time? Click here. The waters are very clear most of the year.
In addition to sport fishing, we can do other activities such as hiking, cycling, photography and birdwatching, as it is included in an SPA (Special Protection Area for Birds).
Bottom composition and structures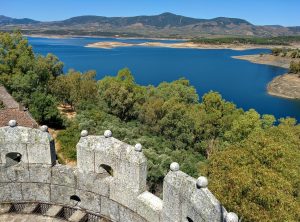 The main rocks that make up the bottom of the reservoir are slate and to a lesser extent granite in areas near the dam. The slopes are moderate, and we can find both large beaches and deeper areas, although these are usually far from the shore, which makes fishing from the shore difficult at certain times.
It is not a reservoir that is characterized by the presence of very marked structures, although we find several stone ones in certain areas: mainly walls and remains of old submerged buildings.
Vegetation and cover
We occasionally find submerged vegetation: small trees and bushes but the vegetation cover is rather scarce.
Main fish species
We have an interesting variety of sport species, which although they do not usually reach record sizes, their densities are significant.
Black Bass. There is a good population of medium sized black bass, occasionally finding some large specimens above 2 kg.
Zander. Abundant populations of this predator and growing.

Common barbel, Gabriel y Galán

Pike. It has been present in the reservoir for some time, although it is not particularly abundant. In recent years it has been seen more frequently.
Common barbel. It does not reach big sizes but we can fish it with artificial lures, mainly in spring, summer and early autumn. Logically it can also be fished with other techniques (carpfishing, feeder, match, fly…)
Carp. Carp are also very abundant in this reservoir, although they do not usually reach large sizes.
Baitfish in Gabriel y Galán lake
The bleak and the crawfish are the most abundant species in the Gabriel y Galán reservoir, but we also have the presence of sunfish, nase and crucian carp.
Access and navigation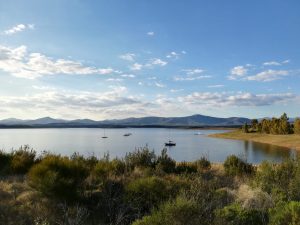 It is a moderately accessible reservoir on the shore since we can access it through a good number of roads, mainly in the area closest to the dam. The main creek area is more inaccessible from the shore and except in specific areas, it is more advisable to fish them from a boat.
Both motorised and non-motorised navigation is permitted on application to the CHT.