He has had better and worse years, but Sierra Brava lake has been,is and will be one of the mythical reservoirs for black bass fishing in our country. I've fished it a handful of times, and although I don't know it in micro-detail, I think I can speak about it with some knowledge… I am going to share with you the lures for Sierra Brava that have worked best for me, in case it helps you.
Hard jerkbait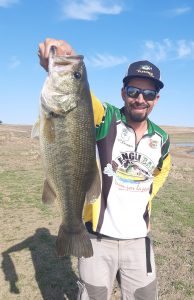 The reservoir is full of oaks, yes, and it might seem to us that the best lure is going to be the one we can use to fish into these oaks… But the fish are not always in them! If I had to go to Sierra Brava with just one lure, this would be the hard jerkbait. The fish are very focused on feeding on bleak, and although of course they also eat crawfish, bleak is the most important part of their diet.
The main "mistake" that I think most of us who have gone to Sierra Brava for the first time will have made is to cast one after another at all the oaks we see within our reach. There are days when the fishes are placed in the holm oaks, yes, but it does not happen every day, nor are all the holm oaks suitable for the fishes to be placed in. Fishing with a jerkbait in the areas that we consider to be the most desirable for that moment, is something that has almost always given me results.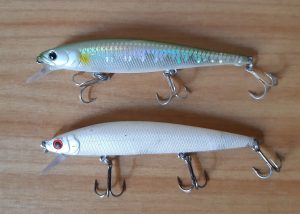 Sometimes we will fish very close to the oaks, in which case I like to use floating jerkbaits, to immediately interrupt the retrieve when I feel contact with the tree. Other times we will fish for large beaches without apparently much cover, here I usually use suspended jerkbaits that can cause the bites in their stops. Finally, we can also fish deeper areas, in which a slow sinking jerkbait can give us that extra depth we need to make the strike. Colours and sizes to suit the consumer and depending on the time of year.
Spinnerbait, lures for Sierra Brava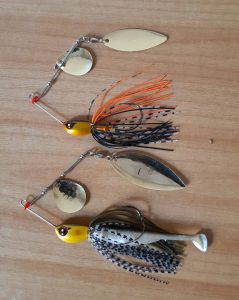 This lure has worked especially well for me with pike, although I've also taken some good-sized bass with it. 95% of the time it worked when the water surface was curled by the wind. Also when the water was a bit murky or there was some current. It is a lure with which we can beat a lot of water, which in Sierra Brava is usually fundamental. As we can only fish Sierra Brava from the shore, many times the difference between success and failure is in covering more shore. I've had quite a few days of 1 or 2 fish all day… Of course, with some "bolo", but in times when the catches were always of good quality.
In terms of size, I usually choose compact spinners, which are less likely to stay on the ground and which can be launched without problems. If we focus on pike: half an ounce or even 3/4 will work well, with the steel strong enough to withstand several bites. As far as colour is concerned, I have almost always used white colours with a touch of grey, green or even chartreuse with murky water. However red colours when the fish are feeding on crawfish will also be a good choice.
Vinyl shad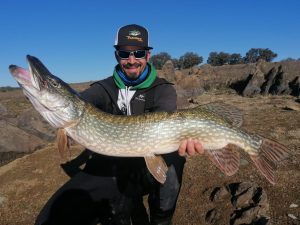 Large vinyl swimbaits are really effective in reservoirs where there is an abundance of shad and a good density of large predators. In this case, both for pike, zander and big black bass, the vinyl swimbait is one of the main lures on my trips.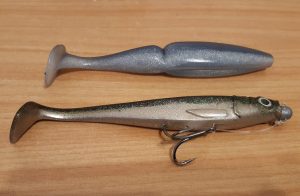 Because the banks are not too steep, I normally use them without lead or with very little lead. The rigging will depend on whether we are close to the holm  oaks or not. If we are, a large single hook with the point as little exposed as possible is ideal. If we fish more open areas with hardly any wood, we can use treble hooks to gain in effectiveness. Finally, as far as colour is concerned, I always use natural colours, although white is also very effective, especially in cold water. If we go to the reservoir after a big flood, more solid colours will help the fish to find our lure better.
Vinyl craw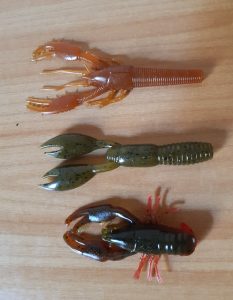 Even though the bleak today forms part of the diet of predators in a greater percentage than the crawfish, we cannot forget about the vinyl craw. Whether rigged on a jig, Texas or even the Carolina rig with heavy weights about an ounce or more to throw it really far, vinyl craws will give us bites on many occasions. It is important that we cover the tip of the hook with the vinyl, to lose as little as possible in the oaks. And not only that, we will also save valuable fishing time trying to unhook them.
When we go to Sierra Brava, we usually go in search of big fish. For this reason I usually use large craws, which are an appetizing mouthful. The waters become murky with the spring floods, especially in the tails, so in these cases I usually use quite solid colours. As for the model, it will depend a lot on whether we are fishing on the bottom, or if we are pitching between the oaks. In general, I usually use realistic models or at least models that do not emit too many vibrations. The fish are very pressed and I prefer vinyl with the most natural movements possible.
Vinyl tubes, lures for Sierra Brava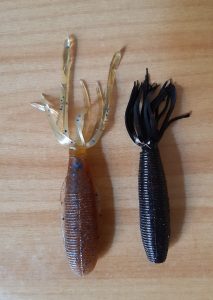 While it's not usually a "headline" lure for me, I never go to Sierra Brava without a couple of blister packs of vinyl tubes in my backpack. If we get one of those days when the fish are in the oaks right, a vinyl tube can be deadly. Here I usually use insert leads, because many times it is important to reach several meters more to reach the trees that are really far from the shore.
Of course the tip of the hook should be inserted into the vinyl and when setting the hook we will have to "pull" the fish out of the tree. If we give it a little margin, it will become entangled in the tree and we will have lost the catch. Both to cast far away and to take them out of the trees it is important to have long and powerful rods. Some even use spinning rods with braided lines… But for me what is really important is to detect what kind of trees the fish are in and why. Sometimes they are not even in trees but they also eat the vinyl tube better than other lures…
Good luck if you go to this reservoir and above all, a lot of patience. You may have been fishing for 6, 7 or 8 hours without a bite… But when you go home having taken a lunker out of Sierra Brava, everything else will have been worth it.