During the 18 months that I worked in the city of Merida, I was able to spend a lot of time in Proserpina lake, also known as "la charca" by the locals. It is a reservoir in which I was able to catch hundreds of black bass and a good handful of pike, it's amazing the amount of fish for its size. It also allowed me to learn a lot about the behaviour of the fish, as I was able to catch many of them sightfishing… Below I show you the Proserpina lures that worked best for me.
Vinyl worm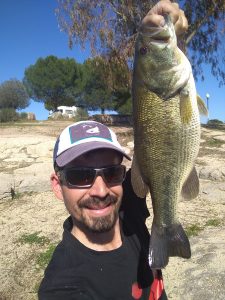 The Proserpina reservoir is characterised by its fairly clear water and is surrounded by a path from which we will have the opportunity to see the fish very often. It is a reservoir that lends itself well to sight fishing, mainly for black bass. Practically at any time of the year and, what better way to take advantage of this fishing than with unleaded worms. The average size of the fish is around half a kilo, however it is not uncommon to catch fish weighing over a kilo and it is not very unusual to catch fish weighing over 2.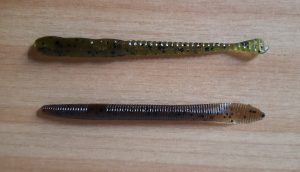 Finesse rod, 6 lbs direct line or leader, mosquito hook or 1/0 maximum and an unleaded worm. After many days spent there, almost always one of my equipments was this one of my regular teams, and I rarely let them down. Normally the fish were better off taking small 4″ or even 3″ worms and the colour changed depending on the food. Sometimes I saw the basses as kamikazes, throwing themselves at the dragonflies, in this case imitating the colour of the dragonflies. Other times I saw them more apathetic and opted for more natural colours. Sometimes worms symmetrical in a waky rig, other smaller worms "with tail" and a hook of 1/0 or mosquito at one end… It's all a question of trying and seeing what kind of presentation the fish like best that day.
Vinyl tube, lures for Proserpina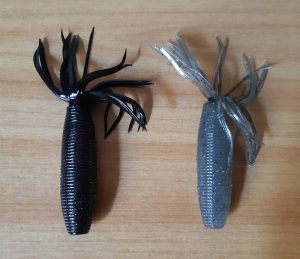 At those times when the reservoir is practically full, there is quite a lot of plant cover (fallen trees, reeds, bushes) that is submerged at just the right depth. At these times, fish often hide in this cover to hunt, even the largest black bass and also pike. In these cases, a vinyl tube is usually an irresistible mouthful that can bring us great joy.
In this reservoir the main prey are crawfish, frogs, large invertebrates and small fry, both black bass and pike. I usually use colours that imitate some of these animals, although sometimes the bite is triggered by simple aggression and we can use more striking colours. Watermelon, pumpkin, reds, greys… even black, all these colours have given me good results, each one in its own time. Once again, when fishing in shallow water I prefer to cast them without a lead, so the models with more salt and density will be the ones we manage best.
Jerkbait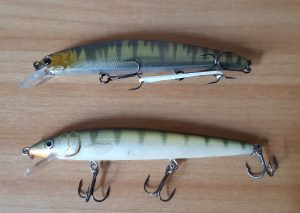 Proserpina is a reservoir of large beaches. But in almost all of them there is some kind of cover, whether in the form of rocks, algae, wood… Practically the whole reservoir is a big beach so the jerkbait is a lure that we cannot forget at home. Of course spring is the best time but autumn too, and we can even have catches with it in summer or winter.
Both pike and black bass can be caught with this lure, as there will always be a percentage of fish more or less close to the shore. We have already talked about the species of prey we have in the reservoir so, as the Americans would say "Match the hatch". Any imitation of small black bass, sunfish or pike will work perfectly. Cannibalism in this reservoir is very common, as there are not a lot of bait fish…
Vinyl shad, lures for Proserpina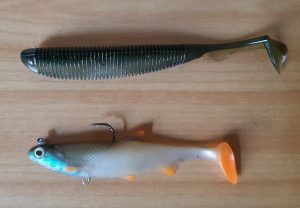 In the warmer summer months and colder winter months, the bulk of the black bass and pike population is away from the shore, at least for most of the day. This is the time to get in with the float tube, kayak or pontoon and search the bottom for active fish. I can't think of any better lures for Proserpina to make it than the vinyl shad so here go the little nuances.
If we go for pikes, I like to use "pikies" of considerable size: 5″, 6″ or even more. Sometimes we will find them suspended but most of the pike I have had stuck to the bottom. Looking for changes in depth with the echo sounder and scratching it is usually a great option. When I try to fish for bass, I usually look for them a little shallower than pike. In the end, each species finds its comfort zone and although we can fish both species in the same spot, they tend to look for different areas.
I hope you find these tips useful if you fish here sometime, and don't forget, catch and release always. Good fishing!