Chatterbait fishing is currently in fashion… and it is no coincidence because it is one of the most versatile lures that exist. However, it is a lure that has been used for many years in competition, even a humble angler like me has been using it for more than 15 years…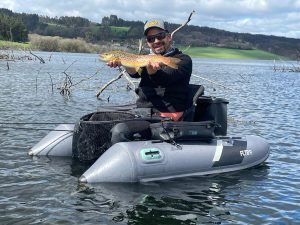 For me the chatterbait is not a magic lure. It is a very versatile lure that will allow us to cover many meters of shore in a short time, mainly in the shallowest layers. Many times I have more bites with this lure than with another one simply because in the same period of time I make more casts and more meters of shore, period.
However, fishing with chatter is much more than just casting and retrieving, there are a series of details that many anglers overlook. The purpose of this article is simply to help you to take these details into account, as long as they are useful to you, of course, because as always, every master has his own book. I don't want to go into the subject without thanking Manute and Fabriche, because a great part of what I know about this lure and about bass fishing in general is thanks to them.
Weights, chatterbait fishing
For me, as with most lures, the half ounce is the most versatile weight for chatterbait fishing. It allows us to make really long casts and play in a "comfortable" way with the depth of the lure. 3/8 oz is a weight more and more used, because it is very useful in shallow scenarios such as the river or big beaches… And also for fishing algae areas, more and more frequent in our rivers and lakes such as for example Orellana. The great advantage of the 3/8 is that we will "hook less" and thus gain precious fishing time.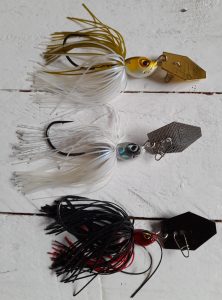 I've only been using 3/4 oz chatterbaits for a short time, but I've found them especially useful in those situations where it's necessary to go deeper. Mainly with pike, but also when the big bass are still a bit separated from the shore.
Even so, the half ounce, if we know how to play with lines and trailers, will be the weight that will allow us to cover 80 or 90% of the fishing situations. If you are going to start using this lure, I think you should start here. With 3/8 you will lose casting distance and depth and with 3/4 you will hook too much, if you are not able to adapt the retrieve rate to the depth.
Trailers, chatterbait fishing
There are multiple shapes and sizes of trailers that we can use, however I will focus on the ones I consider most useful, at least for the fishing scenarios I usually face. Most anglers simply take into account the "match the hatch", the imitation of the predominant prey species. Of course this is important but I believe there are many other factors that influence chatterbait fishing and I will try to explain them below.
Craw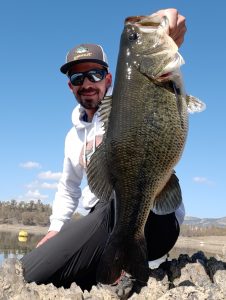 For me, despite not being an excessively realistic imitation, if a chatterbait resembles any living being it is a craw. A craw emits vibrations when it swims, I don't know if they are similar to those of a chatterbait or not, but more than those emitted by a fish. On the other hand, I quite like to use the chatterbait by dropping it to the bottom from time to time, getting quite a few bites even when stationary. For this and other factors I often use a craw as a trailer.
In turbid waters or windy days we can use craws that also vibrate "ultravibe" type. If the waters are rather clear or the conditions of the day are quite clear, without wind, I use more discreet craws. On the other hand, we must not lose sight of the fact that the larger the volume of the crab, the slower the sinking of the whole. So we will use large craws either when we want to give more volume or when we want it to sink less. The latter would be valid for any type of trailer and many fishermen do not take it into account…
Worm
Putting a worm as a trailer will always be a good choice, since we will form an "all terrain" set. There are times of the year when we want a set with a lot of mobility and here we will bet on long worms. Whether they have a vibrating "tail" or not will depend on the stage conditions as in the previous case.
Generally with a worm our chatter will go deeper than with a craw. The thinner and shorter the worm is, the deeper it will go. Therefore we will opt for this type of trailer when we need that "extra" depth. We must also keep in mind that if there is a lot of algae on the lake, a worm will "catch" less than a bulkier trailer such as a craw or a criature.
Shad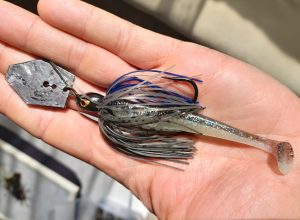 When there is a lot of shad or any other species of grass fish, using a small paddle tail or vinyl trailer jerk will always be a good option. If we opt for a paddle tail, it is important that it does not have too big a tail, as the whole would be unbalanced and would not swim well. If we opt for a vinyl jerk without a paddle tail, we will have no problem.
In this case I simply take into account the above: bulky trailers to give volume to the set, fish slower and go shallower, more discreet trailers to create a more compact set and be able to go deeper with the same retrieve speed and churn more water.
Colors and blades
In this case I am going to talk about the color of the vinyl and the skirts as well as the color of the blades for chatterbait fishing. In general I like to use natural and realistic colors, but with this kind of lures there are times when flashy colors are a plus. If we want to fish for pike or zander, we can play even more with this kind of colors like yellows, whites, bright greens?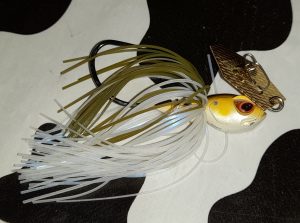 If our target is bass I generally try to play with "matching" sets. When I put a craw trailer, I will use a craw color chatter. If I put a fish type trailer, I will use a fish type color and so on.
As for the blade, there are multiple opinions but we can play with 3 options. Black or dark paddle in very clear water and pressured scenarios. The theory says silver paddle on cloudy days and gold paddle on sunny days…. Besides, the golden blade is not usually used too much in our country so I consider it a plus sometimes.
Retrieving in chatterbait fishing
Lastly I want to talk about retrieval in chatterbait fishing. As I said at the beginning of the article, I believe that chatterbait fishing is much more than just casting and retrieving and I'm going to try to clarify that.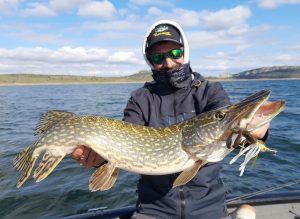 In 90% of the situations we will cast to a target (or not) and retrieve the lure. There will be times when the fish will want faster retrieves (usually happens post-spawn). There are other times when the key will be to retrieve at the minimum speed we can do it without the lure stopping vibrating. This speed is not exactly low, we can never retrieve at the same speed as we would with an unweighted paddle tail…
Different ways
However, if we do not have too many obstacles and the fishing is very slow, we can make periodic stops allowing the lure to contact the bottom. We can even stop it on the bottom for a few seconds. Anyway, if we want to make many stops on the bottom, there will always be better options such as a jig. I simply want to show the versatility of this lure. When I need to cover more water than with a jig, but I know the fishing is hard, this is what I do.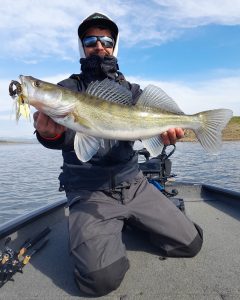 Finally, I would like to emphasize that the chatterbait is a pure power fishing lure. It is a lure that causes most of its bites by reaction and its main strength lies in its ability to sweep a large amount of water in a short period of time. With a chatterbait we will mainly catch the most active fish and leave another fish behind. But if there is a high enough percentage of active fish…. With a chatter we will cover much more water than with slower fishing and therefore we will be able to catch more fish.
Cheers and good fishing.