Characteristics of Alqueva lake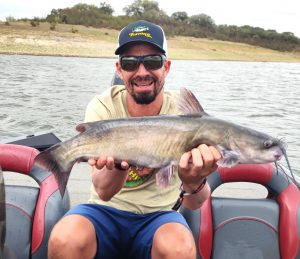 With a capacity of 4150 hm3 and a flooded surface area of 25,000 hectares, Alqueva lake is the largest in Western Europe. 3300 hectares are located in the province of Badajoz and the rest in the neighboring country of Portugal. It is a reservoir intended for the production of hydroelectric power, but it also has important agricultural uses.
The waters of the Alqueva reservoir are relatively clear in winter but the rest of the year they are usually quite murky due to the proliferation of suspended algae. In addition, the adjacent clayey soil also influences this turbidity, since during heavy rainfall episodes, the runoff drags this clay and the waters become quite brown.
Bottom composition and structures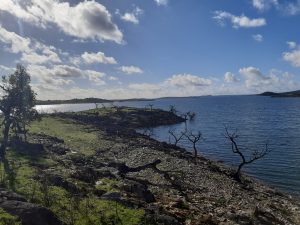 The Spanish part of the reservoir is quite shallow in general, with shallow depths and slight to moderate slopes. The bedrock is mainly slate and the soils are quite clayey.
As we move towards the dam area, the large beaches alternate with rockier areas: slate points, transition zones with loose rocks…. The creeks of this reservoir are really long and irregular with many inlets and overhangs, ideal areas for predators.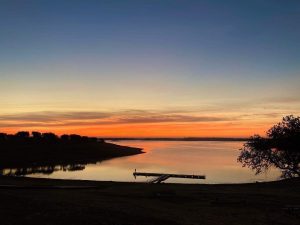 The main problem to locate them is that at first sight there are hundreds of attractive areas, so we must go a little further and analyze the changes in depth, water inlets, areas more or less whipped by the prevailing winds, areas with weeds …. This is the only way to focus the shot, as we can spend the whole day "pitching" trees without getting a single bite.
On the Portuguese side, as we get closer to the dam we find more docks, bridges, buildings, walls… and other submerged anthropic structures. On the Spanish side we also have piers in Villarreal, Cheles and Villanueva as well as some submerged stone buildings.
Vegetation and cover in Alqueva lake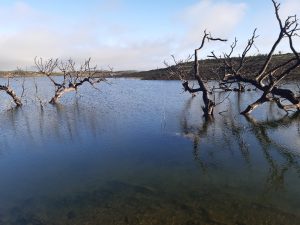 We find a large number of submerged trees (mainly oaks and cork oaks) at different depths. Practically whatever the level of the reservoir, we can find cover in different areas of the reservoir. The lower the level, the greater the number of trees, as in many areas they were not cut down before the reservoir was built.
Level changes are frequent, although due to the large size of the reservoir, these changes are not as noticeable as in other more confined reservoirs. (like Alcántara for example). In this link we can know the level, although it is only updated once a month.
Main fishing species
Fishing in Alqueva lake is very varied, and we find in it most of the predator species present in the community.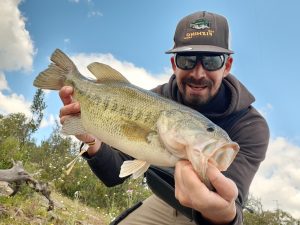 Black Bass. The population is abundant, although it is not a reservoir where "record" specimens abound, we can enjoy days with multiple catches of medium size. Nowadays, catching a 2 kg fish is practically a record, although in its day specimens of 3 kg were caught….
Zander. One of the most abundant predators in the lake. It is currently considered unfishable in Extremadura.
Channel catfish. This invasive species has been in the reservoir for many years and is currently the main predator. It acts both as

Medium sized zander

baitfish in its small sizes as a predator when it becomes bigger. It is currently considered unfishable in Extremadura.
Pike. Alqueva does not stand out for its abundance of pike, although in certain areas we can find certain concentrations.
Iberian barbel. Due to the interesting populations of bleak and crawfish, it reaches very large sizes and can be fished both with lures and other techniques (carpfishing, feeder, match, fly…).
Carp. Carp are also very abundant in this reservoir, with a large number of medium-sized specimens.
Prey species in Alqueva lake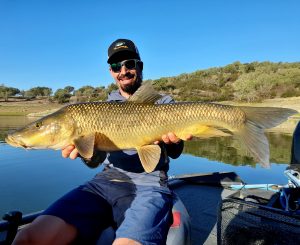 Bleak is the main species of baitfish in Alqueva, which harbors very important densities. It is not uncommon to find large balls of bleak, both in shallow and deep areas.
The crawfish is also very abundant in the reservoir, being very common to find their skeletons and claws along the shores. In addition to fish, otters, herons and a good number of waterfowl are also abundant.
There are also sunfish, a lot of crucian carp and channel catfish as we have said before.
Navigation and access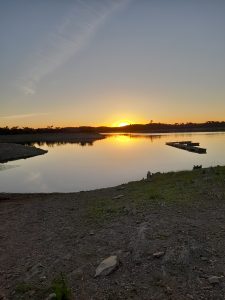 Most of the shores are passable although it is not an excessively comfortable place to walk. We have large beaches with flat shores but also steep shores with slates and some slope. An important limitation is the accesses as there are not too many (mainly on the Spanish side) and they are spaced several kilometers apart.
Both motorized and non-motorized navigation is allowed, after requesting a navigation permit from the CHG. On the Spanish side there are 2 jetties from which to launch the boats: in Cheles and in the port Villarreal de Olivenza.