This summer I was lucky enough to enjoy a handful of hours of spinning fishing in the Cantabrian Sea, both from the coast and from a boat. I would like to share the experience with you, in case any freshwater fisherman like me is lucky enough to try it.
The journey begins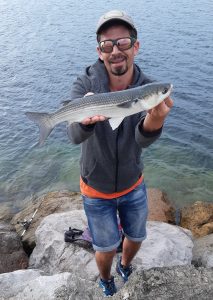 After a delicate personal situation, I decided to take a trip alone, spending several days in the north doing tourism of all kinds: Nature, meeting old friends and of course fishing could not be missed. I spent the first two days in the Somiedo Natural Park, a spectacular place that I recommend to anyone visiting Asturias. On the third day we had planned the first day of fishing with some friends.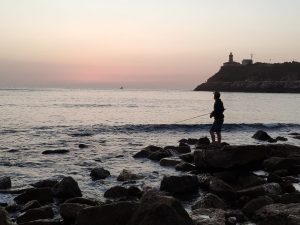 It is a real pleasure to go to the north and enjoy the kindness of its people, which added to the fortune that usually characterizes me, led me to organize a day of fishing from a boat without me knowing it… With the joy in my body for the good news for the next day, I decided to take advantage of the last two hours of daylight to make some casts at sunset in the Avilés estuary. I didn't know the place and the "0" was more than likely, but destiny wanted a mullet to meet my little jerk, or my jerk meet the mullet?. The fact is that I was able to enjoy a beautiful fight with a light fishing equipment and finish off the day with some beautiful casts at sunset…
Improvised boat trip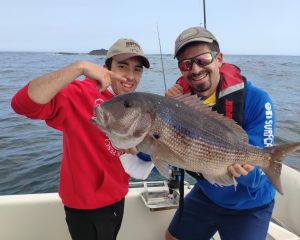 For a freshwater angler like me, being able to fish from a boat in the Cantabrian Sea was a tremendous dream. At the same time it generated respect for me as I did not know how I would cope with the waves… After a good breakfast and the little pill for the seasickness we started towards the area of Cabo Peñas, an authentic paradise of nature…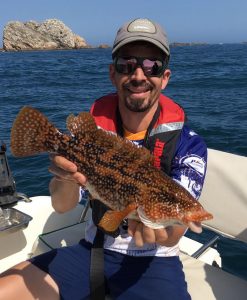 We arrived at the first spot and thanks to Juanjo's good advice we hadn't been fishing for 5 minutes when Hugo caught a beautiful dentex with a vinyl. Probably the most powerful animals that we can catch spinning in the Cantabrian Sea. We kept on fishing the area and we started to have bites to the vinyl that we had not finished materializing. What fish would they be? I thought… And soon we discovered that they were the beautiful brown wrasse, a totally new species for me that I was very excited to capture.
Where the waves break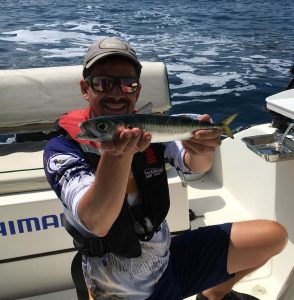 We kept on hitting different areas in search of some other dentex or some sea bass but it was the brown wrasse that kept on biting from time to time, sticking to the bottom and keeping the excitement of the day. We arrived at a beautiful wave breaking area where we expected to get some sea bass but what we got was a good bank of mackerel. There we were able to get a few and finally Hugo pulled out another sea bass… How can you tell who is used to spinning fish in the skimmer!
On returning to the port, Pablo managed to get his first fish of the day, also very commendable. It is not easy for a surfcasting fisherman used to fishing with his feet on the ground to endure the "jumps" of the boat. Once the day was over, Juanjo confessed to us that the sea had been much more complicated than expected… But fortunately we were able to enjoy an excellent day without any setbacks.
Spinning in the Cantabrian Sea. Santander Bay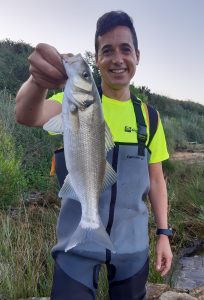 I only had one little thorn left on the trip… to catch a sea bass, which for me is the queen of spinning in the Cantabrian sea. After saying goodbye to Asturias I decided to cross to Cantabria to visit a handful of old and good friends I have there… And we had been talking for some time about spending some time together in the water so we decided to go to the bay of Santander, to an area where I caught my first sea bass back in 2008. The main objective was that my good friend Chus would take out a sea bass, although of course I also thought I would have my options…
We were accompanied by Pedro, who was probably one of the first times he fished with lures in his life, but who also came close to getting away with it. Finally, it's dawn, we arrive at the fishing area and what a surprise it was to see that it was literally full of algae. You couldn't even fish topwater and I could already see the "bolo" coming… I decided to take out some black bass vinyl and put the tip of the hook in the vinyl itself. I thought that was the only way to try to fish in that tangle of algae and… Voila! At the first cast Chus got a very nice sea bass for the area we were in.
Final touch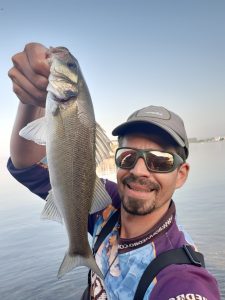 We continued fishing in the area and had a good handful of bites that we couldn't materialize… Or the seabass were either too small or they spit out the bait before we could set the hook.  Finally I was able to get hold of my little sea bass too, which made me very excited. The sun rose, the tide went out and Chus had to work so we called it a day. I left with a very good taste in my mouth and looking forward to coming back soon to see if any bigger ones come out. It was a pleasure to share these days in the north surrounded by great people and different species of fish… See you soon friends!