Horno Tejero and El Boquerón lakes are one of the few remaining in the community where there is still no bleak. This fact will logically condition our way of fishing and therefore the lures for Horno Tejero that we should use. Although there is no bleak, the density of crawfish and sunfish is really good. So we can still catch a few pike or a big black bass around here.
I've been fishing these reservoirs for several years now and although I've had several "0 fish" days, I've also had very fun days. Below I share with you the lures that have worked best for me, both for black bass and pike.
Vinyl tube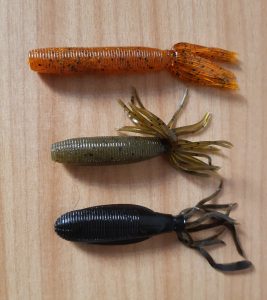 As with other reservoirs, if I could only bring one lure to Horno Tejero it would be the vinyl tube. Fish are "fed up" with eating crawfish, and many times they will take a vinyl that falls slowly to the bottom better than a crawin a jig or with a Texas rig. As the shores have very little slope, it is essential to cast as far as possible so the denser and saltier models will be the most recommended.
As for the colours, I have found that watermelon, pumpkin and orange have worked particularly well. However, any model that imitates the colour of crawfish at all times is a safe bet. We can rig the tube with an insertable lead, but I prefer to rig it weightless, because even if we put very little weight, the fall will not be as natural. In this reservoir of generally crystalline waters, the fish know Latin and we must refine a lot in the presentations.
Hard jerkbait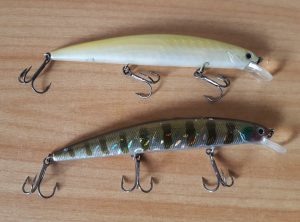 Despite being a reservoir with no bleak, the jerkbaits have worked very well for me, especially in spring, with both bass and pike. With pike, we can have days with multiple catches, both in pre-spawn and post-spawn periods. Once again, casting far away is fundamental, so the "big" models that are casted better are the ones that have given me the best results.
Sometimes in spring the water is muddied by the floods and at this time I usually use brighter colours, although as a rule natural colours will be a better option. I usually use suspending models to be able to make more or less long stops depending on the behaviour of the fish.
Hard swimbait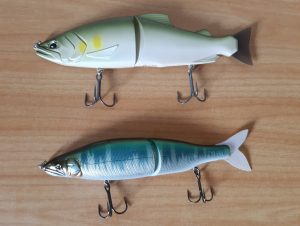 As in most situations, we will use these lures for Horno Tejero when we go in search of big fish, especially if we go in search of black bass. Pikes at certain times eat them quite well and we can also enjoy with it days of several catches of medium size. The fact that it is a reservoir with such a slight slope will make it much easier for us to use it.
In terms of sizes and colours, "to the consumer's taste". Bearing in mind that in addition to black bass, pike and sunfish in the reservoir there is also carp and some tench, any imitation of these fish can work well for us. Normally I recommend using it on days with wind, as it is a reservoir with such clear waters, on "plate" days the fish will often pursue the lure without actually taking it.
Spinnerbait and chatterbait
These two lures for Horno Tejero have given me very good results, especially with pike, although I have also been able to get some bass. It's probably a coincidence, but the chatter has worked better for me in Boquerón and the spinner in Horno Tejero. Once again they are lures that are cast well and far and with them we can cover a lot of water in relatively little time.
Regarding the spinner, it may be a personal obsession but I usually use white colours. If the water is murky I usually go with a chartreuse touch and if the water is clear perhaps with some grey or dark green. Half an ounce is the size I preffer to use, as with heavier spinners we would quickly hook on the bottom and with lighter spinners we would not be able to make equally long casts. As the theory says, it has worked better on windy days but when we don't find the fish, it is always a lure to be considered.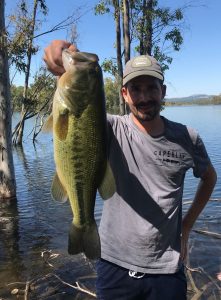 The chatter has given me good results even on days without wind. I don't know what this lure has, I suppose it's the vibrations it emits, but pikes love it. As with the spinner, I find the half ounce the most versatile measure. As for colours, I prefer pumpkin, brown, watermelon… Although brighter colours such as purple, red or chartreuse also work very well on certain days. A slow retrieve just above the bottom is what has given me the best results.