Almaraz lake is characterised by its high density of fish, especially of black bass and we can fish there practically all year round. I have fished it mainly in winter, so I am going to choose the lures for Almaraz that have worked best for me at this time of year, especially if we are looking for nice fish.
Jig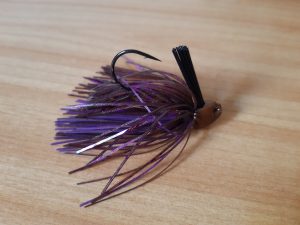 If I had to go to Almaraz with just one lure, that would be the jig. Generally crawfish are very dark and quite red there, so the colours in this line usually work well. However, as the waters are always quite murky, high contrast colours such as PB&J or black & blue usually work well too. When the fishing pressure rises we can also vary towards more natural colours such as brown, pumpkin and their variants…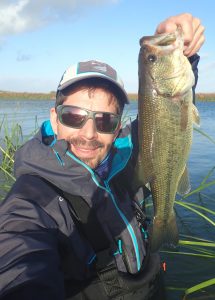 As for the size of the jig, half an ounce is usually the most versatile. Sometimes we can use 3/8 but only if we fish the edges of the covers. If the fish are well placed in the cattails, half an ounce is the minimum we should use if we want to access without problems the "heavy cover" areas. Flipping heads will always be more suitable for reducing hooking.
And finally, as far as the type of trailer is concerned, I usually use large craws to select a little bit the size of the catches. On days with a lot of wind, crabs that emit a lot of vibrations and on quieter days more "realistic" crabs.
Vinyl worms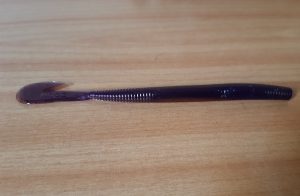 When the fish are far away from the shore, which is more often the case in the "cold" zone, the vinyl worm has given me very good results. Usually heavy rigs, like carolina or heavy shakey to be able to throw really far, to reach the position of the fish.
In these cases, and mainly focused on this area where there is usually current, we will use large worms and usually emit some vibration. Worms like "ultravibe", "cut tail", "u tail" or similar type of tails are the ones that have worked best for me. Dark colours that make a good contrast with the murky water are usually the best option, although sometimes we can also pull a chartreuse touch.
Frogs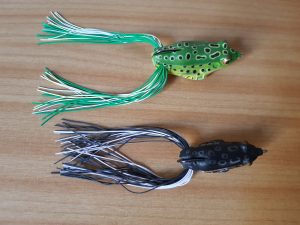 Frogs are never going to be the most productive lures for Almaraz, but they will probably give us the best fish. We can use vinyl frogs, hard frogs, or hollow rubber frogs which have given me the best results. Mainly because we can cast them practically in the middle of the covers with hardly any hooks.
As far as colours are concerned, dark colours at sunrise and sunset are the ones that have given me great results. In the middle of the day, natural brown or green colours with a whitish or yellow belly are usually my choice. It is very important that the cast is accurate and as close as possible to the coverage, as that is where the frog makes the difference. If we are casting into open water, a stickbait will probably give us a much higher catch/bites ratio. It is also important to let the fish eat and not to rush to set the hook.
Vinyl jerkbaits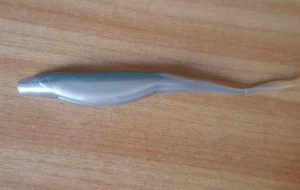 Those days when fish are found hunting in the vicinity of the cattail line and in which they take better presentations without lead, will be the days for these lures. Normally the fish are found more at the bottom eating crawfish, or stuck in the cattails where we cannot fish with this kind of lures. However, on the days when they are wandering around the line of cattails we can have a real festival with these lures for Almaraz.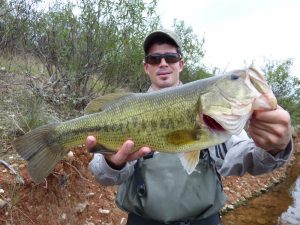 Their erratic movements and the fact that they fall slowly to the bottom are 2 factors that can give us excellent results. I must also say that these conditions do not occur very often, but carrying a couple of packages of vinyl jerkbaits is never too much just in case. Normally 5″ is ideal (if we go down to 4 we will get a lot of small fish) and the colour is not excessively important, for me at least it hasn't been. In recent years the population of bleak has increased so any bleak imitation will work well for us. On the other hand, white or even black colours, especially in low light conditions, have also worked well for me.