Characteristics of Orellana lake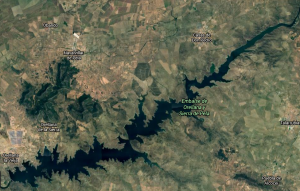 With a capacity of 808 hm3 and a surface area of 5084 hectares, Orellana lake is one of the European references for predator fishing. Its high quality and crystalline waters make it one of the most difficult reservoirs to fish. Another factor that also influences this difficulty is the great density of baitfish and crawfish, providing almost unlimited feeding possibilities for the fish that live here.
Speak about Orellana is to speak about a reference lake at European level in the fishing of black bass, carp and pike but also for birdwatching.
Electricity production, supply and irrigation are its main uses. We can also highlight the river beach present in the town of Orellana la Vieja, the only freshwater beach with blue flag certification. Its level is relatively stable, there are usually no abrupt changes and it tends to oscillate between 550 and 700 hm3. Do you want to know the level in real time? Click here.
Bottom composition and structures

It is a reservoir in which we can find all types of slopes and structures although moderate slopes predominate. The predominant rock at the bottom is slate. Except in some very specific areas, the slopes are not usually too steep so we can walk along the bank without problems in almost all its contour.
Here we can find large beaches with little slope, really long points (very characteristic of the reservoir), islands, cut areas, rip rap, areas with large rocks… In addition, in some specific points there are remains of old buildings and some stone walls, although they are not very common structures. The presence of two large bridges should be highlighted: Cogolludo and Casas de don Pedro in which there is usually a very good concentration of predators.
Vegetation and cover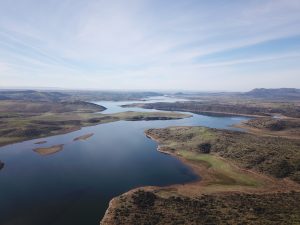 It is not a reservoir that is characterized by abundant plant cover, however we can find submerged oaks in some areas of the reservoir.
There is a presence of underwater vegetation at the main water entrances and it is increasingly common to find "algueros" (underwater weed concentration) in some open areas, although they are still not common in most of the reservoir.
However, filamentous algae are really abundant, covering the bottom in shallow areas in a significant percentage of the reservoir. To be taken into account when fishing with lures "dragging" them along the bottom in shallow areas.
Main fish species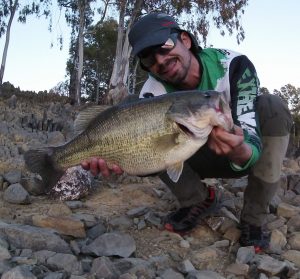 Orellana lake is especially famous for the size of its black bass and carp, as well as for the abundance of pike, which also reaches very good sizes.If you want to book a package tour that includes an excellent fishing guide do not hesitate to click on this link.
Black Bass. It is one of the reservoirs in which black bass reach the best weight/length ratios in the whole country. There is an excellent population in which specimens of all sizes abound and specimens can be captured weighing over 4 kg. Black bass have always reached a good size in this reservoir, but in recent years the specimens that exceed 3 kg are increasingly frequent.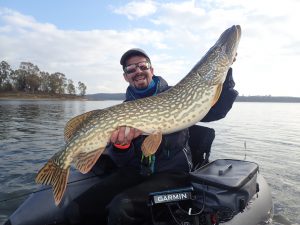 Pike. Although in recent years Orellana has gained a good reputation for the size of its black bass, it has always been a benchmark for pike fishing. Pike between 80 and 100cm in length are abundant, and it's not unusual to catch specimens over a metre long.
Carp. It is also a reference in the world of carpfishing, considered by many fishermen as "the Mecca". There is a very good population of big carp, not being rare the captures over 20 kg and occasionally reaching more than 30. Nevertheless it is one of the most difficult reservoirs to catch them.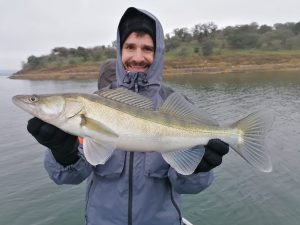 Zander. Present in the reservoir in the last few years, populations of this benthic predator have soared. Large catches are still not frequent, but we can already enjoy days with several dozens of small and medium size catches in a single day.
Baitfish in Orellana lake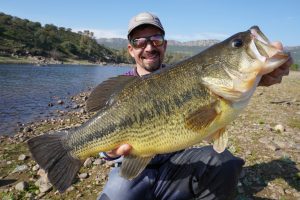 The bleak has been present in the reservoir for many years and its populations are very numerous, with banks of dozens of meters in length. At certain times these banks are concentrated in specific areas of the reservoir, so their location is one of the key ingredients for success in our days.
The crawfish is also incredibly abundant, which is why we are in a reservoir where the fish have plenty of food in all the water layers.
Finally, it is worth mentioning the sunfish, also abundant and together with the fry of the predators themselves, it complements their diet.
Access and navigation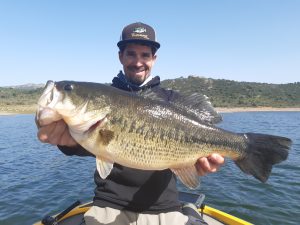 Navigation is permitted in most of the Orellana reservoir, except for a section at the main tail. This section is forbidden because it is considered a sensitive area for the reproduction of protected birds.
Most of the banks are easily accessible for shore fishing, but we must bear in mind that access is limited, with areas of several kilometres that cannot be reached by any local road. If you want to avoid the trek and have a better chance of catching a record fish, don't hesitate to contact  the guides we collaborate with.
For fishing from float tube or pontoon, no permit is required, because if they are less than 2.50m long, they are considered to be a complement to bathing according to the current legislation (2023).