As most of you know, I currently work for Decathlon and I am a collaborator of the fishing brand Caperlan. Thanks to this I had the opportunity to visit San Rafael de Navallana lake at the end of April, recording a tv report for the Spanish channel Iberalia TV about black bass fishing. 2 days of fishing in which we could enjoy the Andalusian goodness for the fishing of our beloved black bass. We were also able to test and record numerous moments with the different novelties for this 2021 in terms of hard lures.
Kilometer 0 at Navallana lake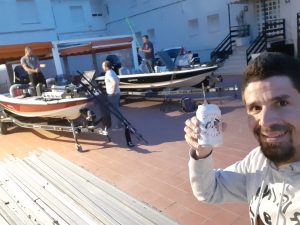 The day before the first day we left from our different locations the 4 members of the trip and the cameraman. Millán, Dani, Gustavo and myself would fish from the 2 Stratos of our Andalusian friends during the 2 days… At nightfall we arrived and, as it could not be otherwise, we finalized the details. Organization of the boats, change some lines, distribution of material and lures… So that the next day we could focus exclusively on fishing.
Dani had organized everything conscientiously: accommodations, dinners, picnics, a pleasure to be able to fish "at the table". In theory, the fish were difficult to catch: pure post-spawn, but the high density of the reservoir was an invitation to optimism… After a good dinner, final details on the boats and off to bed. What would the next day bring?
First day was wet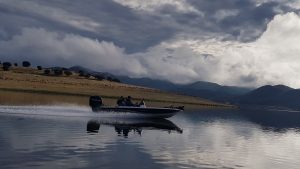 We got up and what according to the weather forecast looked like 4 drops turned into a good downpour…. We had breakfast, prepared everything and it was still raining pretty hard, so when Chema Cerro (our cameraman) arrived we decided to have another coffee. Everything seemed to indicate that the rain would stop sooner rather than later? Besides, filming in the rain would be both uncomfortable and complicated.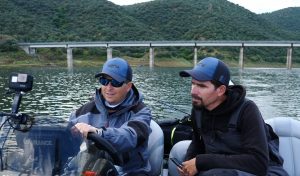 Indeed it was, so we went to Navallana lake, which is very close to the city of Cordoba, which has advantages and disadvantages. In the morning Chema would record Dani and Millán, while Gustavo and I would fish another different area of the reservoir to try to locate fish in different positions. The morning was quite complicated for both boats, with Dani and Millán catching more fish while Gustavo and I caught fewer but all of them nice ones. It was a pleasure to share the boat with Gustavo. We knew each other from some Pinguibass but it's not the same chatting for a while with 100 other people, than spending a day on the boat with him. He was always attentive to make sure I was comfortable on the boat, showing me the best areas that he knew… We will repeat soon for sure!
Afternoon pays off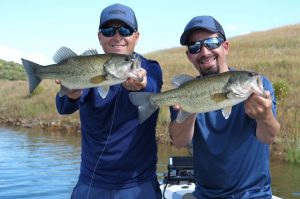 In the afternoon the fish warmed up (or we knew how to find the right key) and taking advantage of the fact that Chema was on the boat we were able to record countless moments. Squarebill, jerk, stickbait… We were practically able to fish with all the lures we tried, and that would not have been possible without the high density of good-sized fish that populate Navallana lake.
For me, who lately has been accustomed to fishing on the lakes of Extremadura, with a great quality of fish but certainly complicated… It seemed easy at times to fish those waters. However, I'm sure we didn't get to know everything because we didn't manage to catch really big fish, we were in the post-spawn season and the fishing wasn't easy…. I don't even want to imagine what it will be like to fish there when the fish are good, a real treat.
Second journey in Navallana lake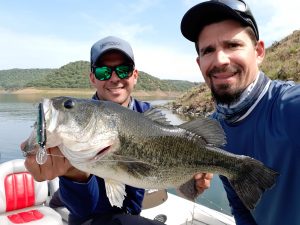 Such was the amount of material we got on the first day, that the crack of Chema already had everything he needed for his report. So on the second day we fished on our own, exchanging partners and taking advantage of the opportunity to take photos and videos of the Caperlan equipment we had with us. I fished with Dani, who despite knowing him for many years, we had never spent a whole day alone on the boat. From the first moment we got along very well and we started to catch fish from the first hour.
The information obtained on the first day made it even easier for us to connect with the fish with some frequency on the second day. We didn't go out to make numbers but rather to try to catch quality fish, either by changing areas, depths or presentations…. As the day progressed, we had to adapt to the changing fish, and again we were able to pull fish with virtually our entire arsenal of lures. We managed to hook up with a few very nice fish, which, without being huge, made our day…
Topwater explosions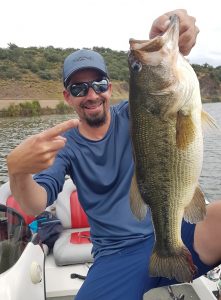 We also had several moments in which the fish warmed up on topwater. Both Dani with the poper and me with the stickbait had a great time. We were even able to catch a handful of sight fish on topwater, something that doesn't happen very often! In the afternoon Gustavo had to leave and we decided to spend the last bit of time fishing Millán, Dani and myself on Dani's boat. We still managed to catch a good handful of fish before the night and the limit hour restricted by the government forced us to leave earlier than we would have liked.
Final balance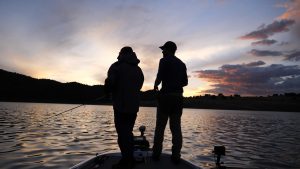 Last day, dinning in Hotel Asador los Manjares, which by the way both Carlos and the rest of the staff gave us a 5-star attention, and it was time to take stock. Well, it was time to take stock for me, Dani and Millán were able to stay one more day fishing…
I don't know how many fish would come out between the 2 days and the 2 boats, probably more than 100 and practically all of them ranging between 1 and 2 kg. Incredible the density of fish in this reservoir, and that due to its proximity to the city of Cordoba has an important pressure, because it is also a small reservoir. A reservoir to enjoy, like many other Andalusian reservoirs, I hope these good populations of bass last long. We will repeat soon, a pleasure to share these days with all of you and…. See you in the water!