This small reservoir located to the north of the city of Badajoz does not stand out for having a great density of fish nor for having huge fish… But we can have entertaining days as far as medium sized fish are concerned and from time to time the surprise jumps out. Here are the best lures for Peña del Águila, that have given me results with both barbels and black bass, which have been my goals as many times as I have gone.
Hard jerkbait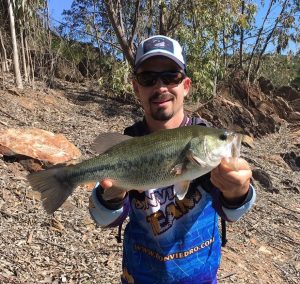 For a few years now, the population of bleak has been very interesting, so a hard jerkbait can work under many circumstances. As it is a reservoir where medium sized black bass are abundant (between 500 and 1500 grams), I usually use sizes between 9 and 11 cm. Sometimes I even go down to 7cm, especially if we are in late spring and the fry of this size are abundant.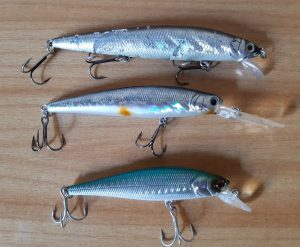 In addition, the use of moderate sizes will help us to make the barbels attack with more confidence. In this reservoir we can catch barbels with artificial lures at almost any time of the year and it is a really fun fishing. The waters are usually moderately clear, although not crystalline, so I usually use natural colours, but without the need to take it to extremes. Imitations of bleak, black bass or sunfish will always be a safe bet… And taking into account that it is a reservoir with moderate slopes, the suspending or even slightly sinking models are the ones that have worked best for me.
Crankbait, lures for Peña del Águila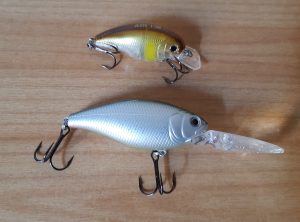 As in the previous case, this is a lure that will work for both black bass and barbels. Even with zander in those months when they are closer to the shore… The reservoir alternates areas with slight slopes with other more pronounced ones. It is in these areas with steeper slopes where we usually find rocks on the bottom where the crankbait will give us better results.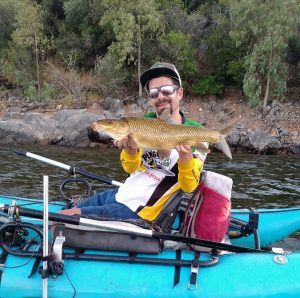 As far as depth is concerned, depending on the time of year, I usually alternate between squarebills that barely go down 1 metre and other mid-water crankbaits that go down 3 or 4 metres. Deeper crankbaits can also work, but taking into account the average size of black bass and that barbels do not have very large mouths, I usually opt for more measured sizes. When it comes to looking for the deeper fish I prefer to use other techniques. We can use a wide range of colours, from red when the fish are feeding on crawfish to colours more similar to the bleak. Yellowish colours also work well due to the large amount of carp and crucian carp that populate the reservoir.
Vinyl worm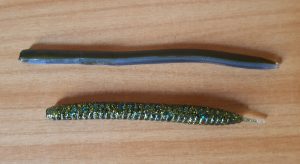 The worm is a basic in those reservoirs with a high density of medium-sized fish. We can use it with multiple rigs and in a wide range of depths, from the shore to 10 or 12 metres. Both in spring weightless for sightfishing and in summer or autumn to fish with a drop shot rig is when I have had better results. In certain areas fish have quite a lot of pressure, as there is a large percentage of the reservoir with difficult access… For this reason we must finesse our presentations, especially when we fish for sight fishing.
When we use the drop shot, we will normally also find fish under pressure, as there are not so many areas in which we can disembark the float tube… I use a 6lbs line, 8lbs at the most and research in areas that you want to fish with the electronics. Worms of 3 or 4″ at most and here we can use multiple options. Any colour that resembles the fry the fish are eating will work. We can use bright colours such as red or blue when the water is a bit rough with good results.
Vinyl craw, lures for Peña del Águila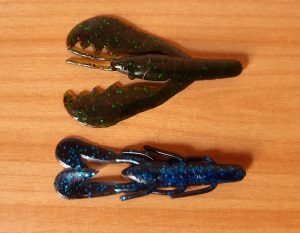 Finally, I would like to highlight the vinyl craw, which has worked very well for me with black bass, but also with barbels. There are quite a few shores full of loose rocks where there is a lot of crawfish and the fish know it. Jigs, Texas, Carolina… we'll adjust the rig according to the bottom hooks and our intuition, but we must never forget the craws at home.
In terms of colours and sizes we can make multiple choices. The fact that the water is not excessively crystalline and that the wind is usually present almost always gives us many options. To shed some light, in this reservoir I have worked very well the craws with pincers that emit quite a lot of vibrations, I don't know the reason… When it comes to choosing colour, common sense and the colour of the crawfish we see on the banks can help us. As far as size is concerned, once again I opt for small/medium sized craws, taking into account the average size of the fish and the possibility of barbels.