Characteristics of Peña del Águila lake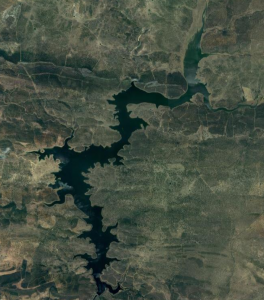 With a capacity of 131hm3 and an area of 1274 hectares, Peña del Águila lake, also known as Villar del Rey lake, although small, is one of the most beautiful reservoirs in the region. It is one of the few reservoirs where you can walk for miles and miles on the shore without meeting anyone, and that today is a privilege.
In its environment we can observe the 6 species of eagles present in the peninsula: royal, Bonelli's, booted, short-toed, fishing and imperial.
Due to its proximity to Badajoz, it is an interesting option for both the city's inhabitants and potential visitors.
Its waters are quite clear, and its main uses are supply, irrigation and electricity. It does not usually suffer from sudden variations in level, being "normally" between 80 and 110 hm3. Do you want to know the level in real time? Click here.
Bottom composition and structures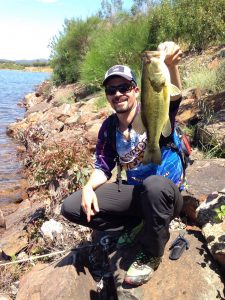 It is a reservoir with moderate slopes, whose bottom is mainly composed of slate, sandstone and limestone. The stretch closest to the dam has steeper slopes, including some small cuts through which it is difficult to pass.
As we move away from the dam, the slopes become gentler, although we still find some steep ones. The mother rock also changes, finding schist and quartzite towards the tail area.
In the zone of the dam there are many loose stones (rip rap), between which we can find some rocks of great size sprinkled. In the tail area we also find some old stone walls.
Vegetation and cover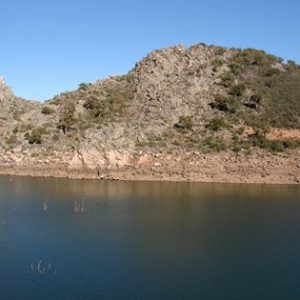 Before the filling of the reservoir it was decided not to cut down many of the trees that we can find underwater today, especially towards the main creek area, where predators find an interesting shelter.
There are not too many underwater plants except in seasonal stream mouths, which usually do not provide much flow except for the tail of the Zapatón River.
Main fish species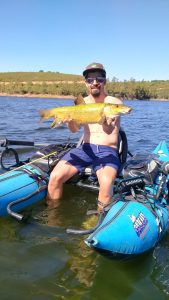 Black bass. It is the most abundant predator in the reservoir, its populations are good and although the average size is not excessively large, there are many fish between 0.5 and 1 kg, and occasionally specimens over 2 kg are caught.
Iberian barbel. There is also a good population of barbels, which bite more and more frequently to the artificial lures, coinciding with the entrance of the bleak.
Pike. Pike are very rare, although occasionally some catches are made, almost always large old specimens.
Zander. Introduced into the reservoir a few years ago, the density today is already high, with many medium-sized specimens.
Carp. There are many small and medium sized carps, but they do not usually grow very much. Carp weighing more than 5 kg are rare.
Baitfish in Peña del Águila lake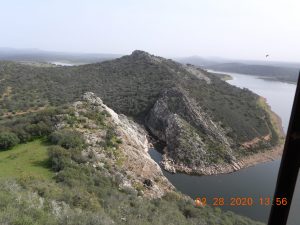 The bleak has been present for a few years, but its populations are now interesting. Thanks to the explosion of the bleak, predator populations are experiencing an interesting growth.
Crawfish, sunfish and crucian carp complete the species of baitfish. The nase was also an abundant fish, but nowadays it has practically disappeared.
Access and navigation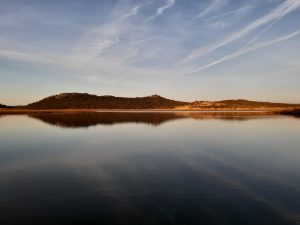 Currently, navigation with a combustion engine is not allowed, but float tube and pontoon are.
Except for the area of the dam and two other specific points, its banks are passable, although not too comfortable due to the large amount of stones. Access is very limited due to the presence of large fenced-in properties on its banks, with entry forbidden or no roads leading to the water.