Characteristics of Sierra Brava lake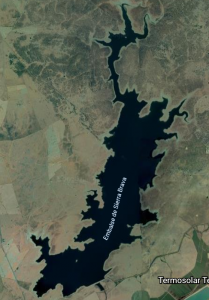 With a capacity of 223 hm3 and a flooded area of 1650 hectares, it is a medium sized reservoir, located in the southeast of the province of Cáceres. It is used for the production of hydroelectric energy, but also has an important use for irrigation and drinking water supply. Sierra Brava lake is relatively stable, with average levels ranging from 140 to 200 hm3. Do you want to know its level in real time? Click here.
In addition to sport fishing, it is a very important reservoir for waterfowl, as many visit it temporarily on their migratory routes.
The waters are quite clear most of the year, although in the rainy season they get quite muddy, mainly in the creeks. Currently it is a fishing reserve, managed by a local fishing society, but we can get permits to fish one day in the towns of Zorita and Madrigalejo and through the following link.
Bottom composition and structures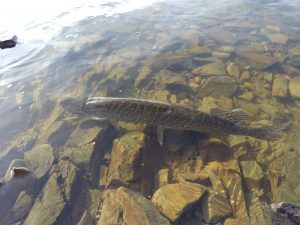 The bedrock is made up of slate, gravel, schist and quartzite and the reservoir stands out for its very gentle slopes along most of its contour. We found slate points and structures that alternate with large beaches.
These slate structures are very interesting points for predators, as it is difficult to reach areas with a certain depth by fishing from the shore.
Vegetation and cover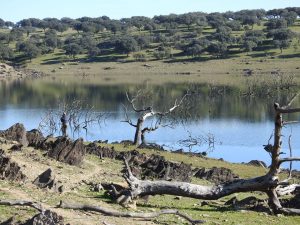 This reservoir stands out for the large number of good-sized holm oaks immersed in its waters. There are hundreds of holm oaks, however many of them are far from the shore and we cannot access them because navigation is forbidden.
In the main creeks, right at the mouth of the streams, we find small sections with underwater vegetation and some algae.
Main fishing species
It is one of the reference reservoirs for sport fishing in our country and its waters have produced record-sized carp and black bass.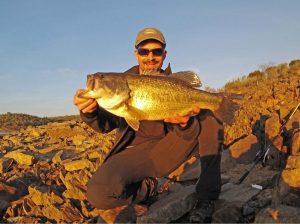 Black Bass. There is a very interesting population, and you can find fish of all sizes. The density of large fish (over 2 kg) is remarkable, and it is not uncommon to find fish weighing over 3 kg.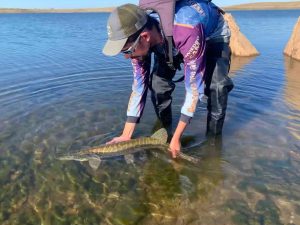 Pike. Pike populations are also very good, with all sizes abounding. Catches of pike above one metre in length are also not uncommon. It is a really entertaining reservoir for catching medium-sized pike.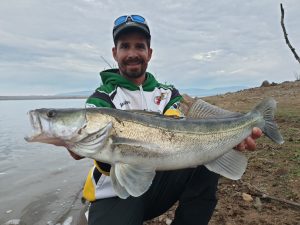 Zander. It has only been a few years since it reached the reservoir but the populations arestarting to become important. The average size is very interesting and specimens of over 4 kg have already been caught. In Sierra Brava they are really voracious, not hesitating to attack large swimbaits or topwater lures.
Carp. It is also a reference reservoir in the world of carpfishing, with frequent catches of sizes between 5 and 15 kg. But in addition to this, its waters are home to large specimens, with carp weighing more than 30 kg.
Baitfish in Sierra Brava lake
The bleak and the crawfish are tremendously abundant, hence the large size of the sport species. Sometimes we can observe real clouds of bleak of several dozens of meters moving through the reservoir. We also have important densities of sunfish and some frogs in the creeks.
Access and navigation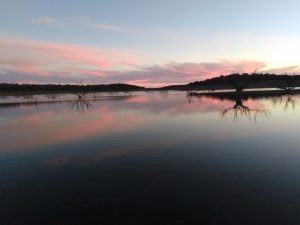 Most access to the reservoir is through private properties, some of which are permanently closed. Fishing from any kind of boat is forbidden by the fishing society (bait from boats is allowed for carp anglers), so the only possible option is fishing from the shore. The shores are easily crossed with the only limitation of access, so we will have to take good walks if we want to reach areas with less fishing pressure.