Characteristics of Proserpina lake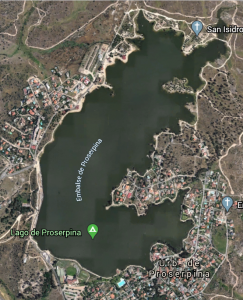 With a capacity of 5 hm3 and an area of 72 hectares, I decided to include the small Proserpina lake because of the high quality of the fish that inhabit it. Only 8 km from Merida, its waters are quite clear and its level is very stable throughout the year, around 4hm3. Do you want to know the level in real time? Click here.
The reservoir dates back to Roman times and currently its only uses are related to leisure: fishing, bathing and water sports.
Bottom composition and structures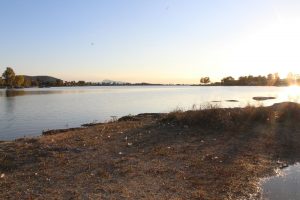 It is located in a granite area and we can find the typical large granite balls. For such a small reservoir, it has a certain depth and we can find areas with moderate slopes to be able to fish a little deeper.
At the bottom the naked rock alternates with large sandy beaches and some loose rocks. We also have 2 submerged islands that are very interesting when we locate them with the echo sounder.
Vegetation and cover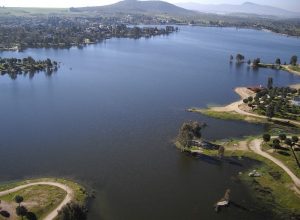 We can only find a few submerged trunks along the entire bottom of the reservoir. Nonetheless, when it is above 90% of its capacity, there are several fallen trees and some shrubs that remain submerged. There are also quite a few reeds on the shore which offer excellent refuge for fish in such situations, as the reservoir has so little cover.
As for underwater vegetation, there are only a few underwater plants at the mouth of the two streams and in some areas filamentous algae grow along the bottom, especially in late winter and early spring.
Main fish species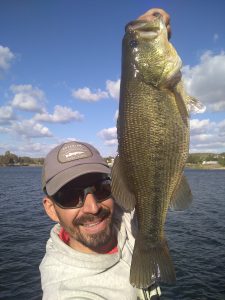 Pike. Despite the low capacity of the Proserpina reservoir, the pike population is quite good, with many pike weighing between 1 and 4 kg. Occasionally, some specimens reach 7 or 8 kg.
Black bass. The black bass population is also good, although they do not get very fat due to the limited availability of food, they reach very interesting sizes. There is a good population of fish of about half a kilo, but it is not rare to find specimens between 1kg and 1.5kg, some of them reaching over 2kg and even 2.5kg.
Iberian barbel. There are some large specimens isolated, but the population is not representative.
Carp. Also noteworthy is the size of the carp in this reservoir known among regular visitors as "the pond". There is a lot of "big" carp, around 8 or 10 kg and some of them reach up to 20 kg, so carpfishing is the most practiced modality.
Baitfish in Proserpina lake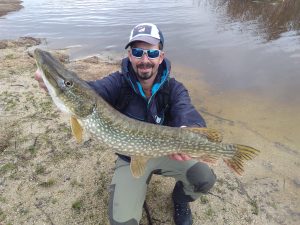 In the Proserpina reservoir there is no bleak so the crawfish is the main source of food. Also the black bass fry themselves, which reproduce very well in this reservoir thanks to its stability in the spawning period. We can observe large banks of small black bass with the echo sounder in late summer and early autumn.
Finally the sunfish population is also quite important, there are some frogs and in early summer we can see how small black bass prey on dragonflies and other invertebrates.
Access and navigation
Non-engine navigation is allowed, we can use float tube, kayak or pontoon without restrictions. Please note that during the summer months fishing is prohibited at weekends. Along with Alange, is a reservoir very frequented by the inhabitants of Merida and nearby towns, who come to its banks to bathe, refresh themselves and have a snack in the surrounding restaurants.
It is possible to walk along the bank without problems all around the reservoir.