A few weeks ago I was lucky enough to join Marcos from BO Fishing for 2 days of fishing. We decided to go to Ricobayo lake with an open mind regarding the target species. There we can find both bass and pike, very aggressive common barbels and zander.
The action starts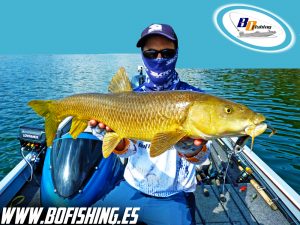 We began the first day calmly, without getting up too early as we had to travel more than 100 km to reach Ricobayo lake. We had decided to speed up the sunset on the first day and the sunrise on the second. When we arrived, we began by covering the shore fishing with jerks, cranks and topwaters and soon we saw that the fish did not climb the walls… After doing a good stretch of shore with hardly any movement we changed the strategy and started fishing deeper and that's when the bites started. It's great to feel the power of the barbels on the other side of the line again… For those who have never experienced it, it is a highly recommendable experience!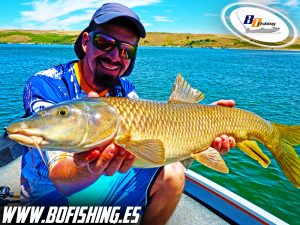 Thanks to Marcos' good work and his knowledge of the reservoir, we were able to try different areas and enjoy numerous bites throughout the day. Most of the fish were common barbels and zander, although from time to time some pike also came out. It is incredible to see how the reservoir has changed with the arrival of zander… We hardly saw any bleaks but there were huge schools of small zander and the different predators were feeding on them.
Trying black bass, Ricobayo lake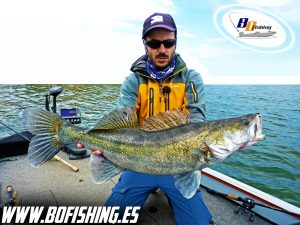 As Marcos knows that I have a weakness for bass, and Ricobayo was one of the reservoirs where I caught my first quality bass, we also invested some time in looking for them… I had my chances with a nice bass in the morning that I did not manage to cheat and another very big one that got loose at sunset, already practically in the boat. I had a loose brake to prevent the barbels from opening my trebles and it came off at the last moment… A pity because it would have been a spectacular finish to that first day.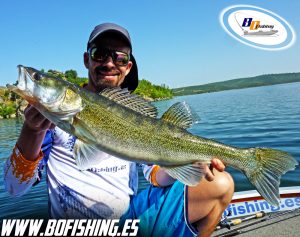 It has been years since we had a good day's fishing together with dozens of bites and a good handful of fish on the boat… And I enjoyed it like I haven't in a long time. Apart from being one of my best friends, Marcos has evolved a lot as a fisherman and as a guide. I learnt very interesting details about how to interpret the electronics by fishing in deep cut areas… Which is much more difficult than it may seem. Besides, fishing at great depths is not easy, even less common barbels that often do not fit the lure in their mouths… Deciding when to set the hook is fundamental. Marcos helped me with his corrections and even detecting mistakes I was not aware of, so besides the fact that I enjoyed a couple of days in excellent company, I took very good lessons.
Second journey at Ricobayo lake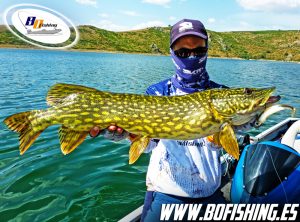 The second day we decided to start from the first moment with the deep fish pattern we had achieved the day before. After an excellent dinner and a good night's sleep in El Vedal in Muelas del Pan, we had our batteries charged to face the second day where we would fish until mid-afternoon.
It didn't take long for the bites to start and soon the reels began to sing with the runs of the barbels… When you come across an active school of fish, having fun is guaranteed, even though we didn't have one of those "crazy" days. We kept on playing different areas and scratching some catches in almost all of them, getting some very meritorious ones. The zander and barbel are really healthy and fat, and we are already starting to get some very good quality catches. The pike were less active (as Marcos had already told me), but we still caught several good-sized fish…
End of the party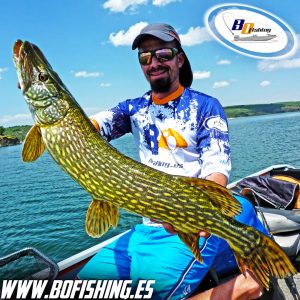 Lunchtime arrived and our friend Daniel appeared. We had a good meal and went back to work in an afternoon when the conditions were complicated and the fish didn't make it easy… At mid afternoon, after trying different things and trying other areas, we decided to end the trip. These were 2 exciting days in which we could remember old times and have good fishing days… Maybe we missed some really good pike (although we didn't really try and that wasn't the goal either), or we got that good bass from the first day onto the boat, but then there was another reason to come back soon.
If you feel like fishing in the area of Castilla y León, either in Ricobayo lake or other reservoirs and want to hire the services of a guide, do not hesitate to call Marcos from  BO Fishing. With him you will not only enjoy, you will also be able to learn a lot… For me it was a real pleasure to share these fishing days by his side, in which we could remember our beginnings in predator fishing in Almendra lake…