Characteristics of La Serena lake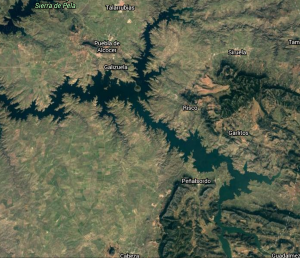 With 13949 hectares and a maximum capacity of 3219 hm3, La Serena lake is the largest in the country and the second largest in the peninsula, only behind Alqueva, which is mostly in Portugal. It is located on the River Zújar, one of the rivers with the most irregular flows in Spain. One of the main reasons for its construction was to regulate this flow as the capacity of Zújar lake wasn't enough to do it.
Currently its uses are also electricity production, supply and irrigation, being a reservoir generally without major fluctuations except in very rainy years. Its average level is between 2000 and 2500 hm3, although in the last 3 years it has been really low. Do you want to know its level in real time? Click here.
Bottom composition and structures
The reservoir is located in an environment of great plains with little trees. These lands were used for extensive cattle raising before the construction of the reservoir. The reservoir is a continuous succession of peaks and creeks with gentle slopes and many islands that become peninsulas when the level drops.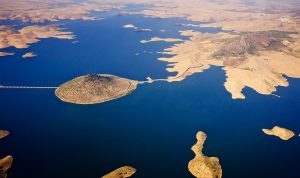 In general, there are not very marked changes in depth and at the bottom there are areas of sand with other areas where the mother rock appears (shales and sandstones), also finding some areas of loose stones. We found many submerged anthropic structures, due to the great extension that was flooded by its construction, getting to flood entire villages. Therefore, in some areas we can find remains of buildings, stone walls and other structures.
Due to its extension we find several bridges that offer very interesting shade spaces, especially in summer.
Vegetation and cover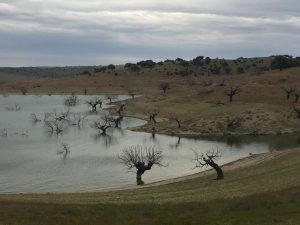 There is a good part of the reservoir that is "bare" but we can find several areas with dry submerged bushes, isolated trees and some small forests of oaks and eucalyptus.
These submerged forests are really famous for being frequented by really big pike. Some of the biggest pike in Spain have been taken here!
Although it does not usually have very sudden changes in level, variations can be quite a few meters in the vertical from one year to another. This makes it difficult for underwater vegetation to proliferate, which is only found at creek mouths in small strips.
Main fish species
La Serena is a huge reservoir in which we can find fish of all sizes. It's famous for its big pike although we can also find very good specimens of black bass, barbel or catfish.
Black Bass. The enormous extension of the reservoir makes its location complicated, as there are kilometres and kilometres of shores that are not the most suitable for its presence. The population is good and they reach really big sizes, although generally not as big as in the neighbouring reservoir of Orellana.
Pike. In the case of pike, it's the other way round, the density is probably lower than Orellana's but we have a better chance of catching a really big pike. When I say really big, I mean pike above 110cm, with specimens being caught above 120cm.
Channel catfish. In both La Serena and El Zújar we can catch large channel catfish, some of them exceeding 10 kg.
Barbel. There is a very large population of small and very aggressive barbels, which will attack without hesitation all types of lures for much of the year. There are also "becero" barbels, a subspecies endemic to the area, which is not so aggressive but can be caught with a fly fishing rod, offering beautiful fights.
Carp. Very abundant in the reservoir, the population of small and medium size carp is very large, being able to capture them by feeder, match or still fishing. We can also capture large specimens above 10 kg.
Baitfish in La Serena lake
In addition to the bleak we find large schools of other small fish among which we can highlight barbels, carp, crucian carp, channel catfish … and there are still some nase. It is a reservoir with a very large population of cyprinids. There is also crawfish and sunfish.
Access and navigation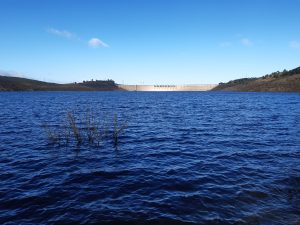 Sailing is allowed, both with explosion and electric engines and of course also with kayaks, float tubes or pontoons.
The shores are generally very comfortable to walk on, although there will be days when we have to walk quite a few kilometres until we find the fish.
There are many paths around the reservoir, most of which end in cattle sheds… So we must be prepared to walk a few hundred meters to reach the shore in most areas.