In October 2022 I was lucky enough to be able to dedicate 3 working days to record a fishing report that I will call "Caperlan expedition". The days were so intense that I decided to write this little chronicle to share with all of you.
Prefishing
The week before the recording of the report, both Mr. Del Bosque (from now on "Señor de la Pecina") and myself had several days off. We decided to spend them fishing for the locations where we were going to film the following week, so that we could be more "on target".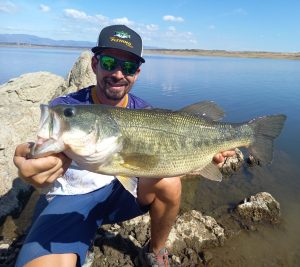 The truth is that the results were more than satisfactory, and we were able to enjoy very good fishing days. Del Bosque was even able to catch his black bass PB. We decided to choose the reservoirs of Orellana and Sierra Brava. The aim of the report was to show the new range of rods, reels and lures in fishing action. The target species: all the predators present in our waters. Black bass, pike and zander were our target and we tried to find areas with a good relationship between quality and quantity, as catching record fish was not the objective.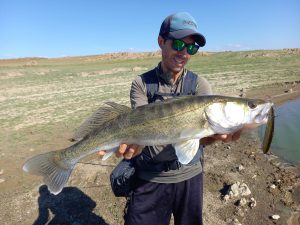 Even so, we caught quite a few quality fish, mainly a lot of pike but also some good black bass and several zander. The fish were quite aggressive but hardly biting on topwater. However, power fishing with hard lures we could catch a good handful of fish a day, of all these species.
1, 2, 3… Action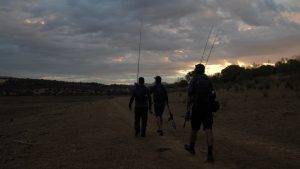 We started the day at the spot where we had controlled the most fish and the catches were not long in coming: zander, some small bass and above all pike, lots of pike livened up the morning. We even had a good peak of activity in which Millán was able to catch several pike in the same spot. In the afternoon we decided to change the area looking for some quality fish but we didn't have much luck… Finally we finished the day with almost 50 fish, so there was more than enough raw material for the report, for the moment, Goal achieved!
A good dinner, a few beers chatting about the casts and then we went back to the flat, as we had to change our equipment and lures, as the next day we would be moving to a different location. We decided to go to Sierra Brava, looking for bigger fish, as we knew that in this lakewe would have a better chance of catching some nice pike, bass and zander.
Day 2 of Caperlan expedition
Day 2 dawns and we set off for the reservoir early in the morning, hoping to catch a few fish at dawn… Our joy was in vain because, although we were able to fish the spots we wanted, we hardly had any bites. We only managed to catch a few zander and a small bass.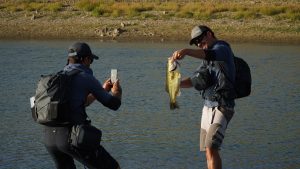 We came across good old Dany Pozo, who had managed to catch several quality black bass with his friends in a nearby area, but in very different positions to where we had had results the previous week. Even so, as we were not too confident, we decided to return to Orellana in the afternoon. There we would try to find something that would help us to find some big fish, especially thinking about the third day. And after a good handful of small fish, we managed to land a nice bass, almost all of them on topwater. We finally had something for the third and last day… It's amazing to see how the fish change from one week to another.
Final bang
For the last day, we decided to change the area completely, looking for those showy topwater bites but with bigger fish, in order to generate more and better images.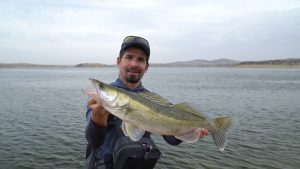 The morning couldn't have started any better, as shortly after starting we came across an area where pike were literally "on fire". There we were able to catch a few, most of them on topwater with some spectacular bites. It's really fun fishing, and what better for a report than to be able to record beastly bites in which the fish came completely out of the water to swallow the lure?
We already had a few nice pike, all we were missing was some really good bass. Although we had the fish from the day before, we couldn't film the bite or the fight…. It is really complicated to be able to record a report from the shore, fishing 12 hours a day and I would like to emphasize that Miguel from Rapabass did a truly exceptional job.
Caperlan expedition. The cherry on top
The fact is that we started to move around with the car, touching different spots where we thought there might be activity, but with no luck…. We had 2 hours of fishing left, so we decided to gamble it all on one last card and it came out, and it did come out.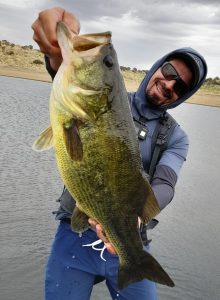 Shortly after arriving, inone of the first casts in which we fearfully watched the threatening rain clouds on the horizon, a bite in "in God's house" on the stickbait set off the alerts. It was an incredible fight, with the fish getting into several weed areas during the fight, which pushed the equipment and the angler to the limit. Finally, luck was on our side and we were able to catch a beautiful specimen, one of those that don't come up every day. We continued fishing for a while longer, encouraged by the catch, and we were able to land another 2 good black bass. One of them was also of a very good size and finally we caught several more pike to finish off the day in style.
A real pleasure to have shared these days of the Caperlan expedition on the water with you, I hope to see you friends very soon.