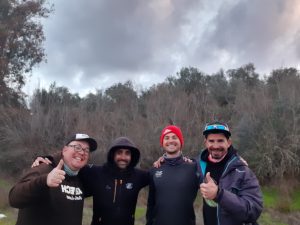 At the end of January I had the opportunity to share some fishing days with some good friends and great fishermen: Bastien Nicolay, Sebastién Merieau and Romain le Guerneve. Excellent fishing guides, specialised in all types of freshwater predators: black bass, pike, zander and barbel. They work on the main lakes of Extremadura: Orellana, García Sola, La Serena…
Due to the pandemic situation, and the mobility restrictions, we were all on a "forced" holiday… So we decided to take advantage of them by investing them in fishing for a few days and… blessed decision.
1, 2, 3… Let's start in the lakes of Extremadura!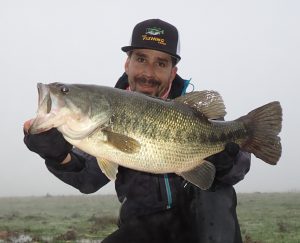 The first day I started the day alone, fishing in one of the best reservoirs in Extremadura: Sierra Brava. I remember that Bastién told me the night before: there's no need to get up early, it's winter and it's cold… we'll arrive at 11:30 or 12. But sometimes I have fixed ideas, so at 8:30 I was already in the lake and landing the first fish, a +2,500 that foreshadowed an excellent day. The bites came and went, although I couldn't land many of them. By the time the French arrived, I had two good basses and a nice pike.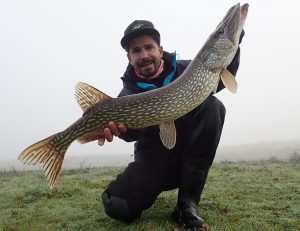 After the pertinent greetings from the shore in front of us, we continued fishing until lunch time, managing to catch another 2 green ones. We had lunch and decided to split into groups of 2 for an afternoon that was also productive, landing in total 8 basses and about 10 pike between us. For the first day of fishing in January, the results were more than satisfactory and we were all able to catch some bass. After the fishing we had a few beers and a good dinner to get our strength back for the next day.
Second round, lakes of Extremadura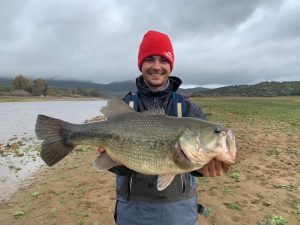 For the second day, we decided to change the reservoir, hoping that the pattern we had found the day before would work there too, and it did…. This time we all started fishing at the same time and soon after arriving in the area Sebas landed the first fish. Shortly after, he hooked another one, a very serious fish that lit up the way again and immediately I saw Bastien's rod bent: "This one is fat" he said. It weighed in at 3130 grams, an extraordinary fish that boosted the morale of the group, which was already high.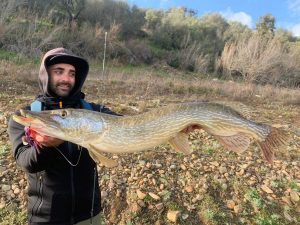 Murky water, cloudy day, wind, bleak in the area…. An ideal breeding ground for predators to go hunting, and we even saw some attacks. Zanders were in action, but from time to time some bass were still showing up, and we showed up at lunchtime with 14 fish, several of them of very good quality. Sebas was also able to catch a good pike that surpassed the metre barrier, which made him very excited, as pike are his favourite fish.
Show must go on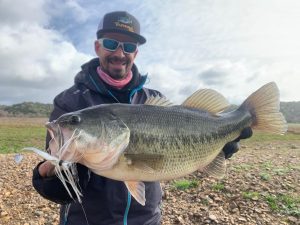 The meal tasted great and after a brief foray into the neighbouring areas, we decided to return to finish the day where we had started it. Once again we found bleak in the area, again wind and murky water, but this time a horde of zander had invaded the area. It didn't matter what lure you put out, a zander would attack.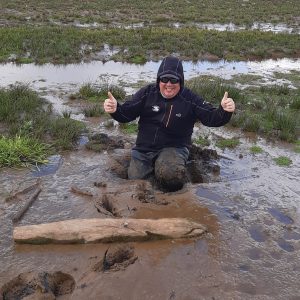 Finally the day ended with 15 greens, 4 pike and about 50 zander. The anecdote of the day was Romain, who ended up waist deep in the mud and we had to rescue him, what a laugh we had….
There was a lot to celebrate and the French decided to treat me to a "tartiflette", a typical French dinner, which we washed down with plenty of beer, wine and other spirits…
Round 3, a nice walk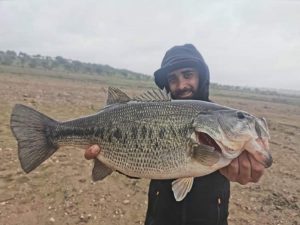 The third day started late, we had to recover our bodies from the celebrations, but we got up at a reasonable time and were able to spend part of the day on the water. I woke up with a "feeling" and decided to change our plans for the day at the last minute. It didn't take long to convince them to change the area again, and it worked out well again. After being close to getting stuck with the car in the mud, we decided to leave it further away than planned. We had to take a nice walk, which was not bad for us to "airing us".
The party is not over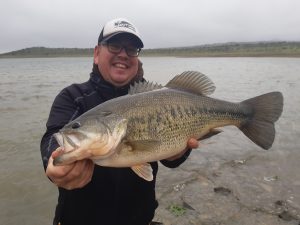 We arrived in the area and on the first cast Sebas opened the can again with another beautiful fish, over 2,500. We soon had more bites and finally we managed to land 4 very good fish. There were at least 5 or 6 failed bites, but this time some fish didn't want to get on the hooks. To land 4 fish in Orellana in January, in a few hours of fishing and from the shore is something very commendable, so we couldn't complain at all. Third day on the water and third day wetting all the members of the expedition, with all of them quality fish.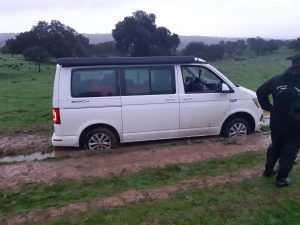 That day the day ended with another anecdote, because when we returned to the car we found  Mario Asensio with his van stuck deep in the mud through which we were about to pass… Thank goodness we decided to turn back at the last moment! After several unsuccessful attempts, we had to call for reinforcements as not even a Grand Jeep Cherokee and several pushing arms could do the job.
The pastel warren
Last day and in view of my "divine inspiration", I took the initiative again, this time without so much initial success. 4th day of fishing and 4th different area, it can't be said that we don't like risk… We arrived at the fishmonger and the temperature of the water was not what we expected, today we were going to suffer, I thought…. And it was our turn, and we only managed to catch a couple of pike before lunch.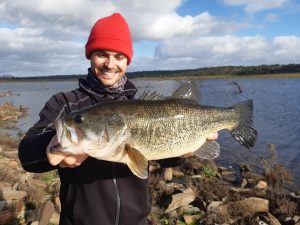 The temperature difference was so big that we decided to go back to the same area as the first day, to finish where we started and we were right again. Again the "rock, paper, scissors" to decide the pairs, you have to see how entertaining these French are… and it was my turn again with Bastien (Bastianelli for friends), just like the first day. While we were changing lures and after checking that the temperature was the desired one, I told him: I'm going to catch the first pike while you tie your lure and at the first cast I got a pike, an extraordinary sign!
Pikes on topwater, lakes of Extremadura
We had a very entertaining afternoon with pikes, landing several good sized pike on topwater lures and, although the greens didn't show their faces too much, we left more than satisfied. The other pair had better luck with the greens, with Romain standing out with a nice quota (5 fish), most of them on swimbait. I've hardly talked about lures throughout this chronicle because they weren't decisive: spinnerbait, chatterbait, hard and soft swimbait, jerk, texas, walker, frog… We caught fish with each and every one of these techniques. But I think that on this occasion the key was much more in finding them than in the presentations.
Final balance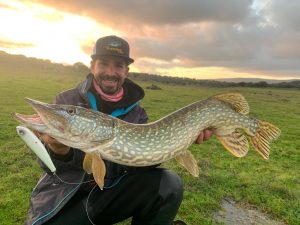 The time has come to take stock of these days in the lakes of Extremadura. Enjoying the last beer of the excursion, practically at night and at the foot of the reservoir… We were overcome by an overwhelming sense of peace in the midst of a silence only interrupted by the last straggling cranes flying towards their roosts. What is happiness? I don't really know, but moments like this certainly come very close…
Finally, more than 30 bass, all of them of good quality, and to make matters worse, at least 2 fish of + 2,500 was caught on every day. More than 30 pike, with several specimens over 80, and Sebas's 106 pike. And more than 50 zander, which, although they were not the main target, they were a good entertainment, especially on the second day.
But in the end, numbers are just that, numbers…. The really important thing was to enjoy an excellent company, great details and moments in the water of great quality, which tasted like glory after several weeks without being able to leave our municipalities… And if fish do their part, as they did, the final result is difficult to improve. French friends, I'm afraid we'll see you on the lakes of Extremadura very often, Santé! et à bientôt !