After a few days dedicated to getting to know  Alqueva lake, without being an expert, I think I have enough information to create a post that can be useful. Here I will talk about the top lures for Alqueva, always in a generic way and of course taking into account that depending on the time of the year there may be many others that also work. Whether it is the first time you visit it, or if you have visited it several times and have had no results, I hope all this will be useful for you.
Crankbait
The crankbait is one of the most versatile lures available for any scenario. In this case, the immensity of the reservoir (it is the largest in Europe) and the amount of "good looking" banks make it one of the headliners.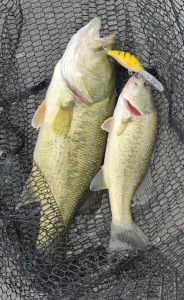 The shores of this reservoir are usually quite steep… There are also many shallow areas where there are usually not too many predators except during the spawning season. But the areas we are really interested in are usually quite steep, rocky and woody. When the fish are shallow, we will logically use squarebill crankbaits. The waters are usually rather turbid so these cranks will always be an option.
If we have deeper fish, due to the time of the year or because we are in areas with clearer water, medium depth crankbaits are usually fine (down to 3 or 4 meters). I usually don't recommend using deep cranks due to the huge amount of trees in the reservoir. The chances of getting hooked are very high with this type of lures and we will often spend more time unhooking than fishing.
Spinnerbait, top lures for Alqueva
For the reasons mentioned above, spinnerbait will always be a lure to consider in this reservoir. The generally taken waters and the hundreds of miles of shoreline are two sufficiently compelling reasons for this.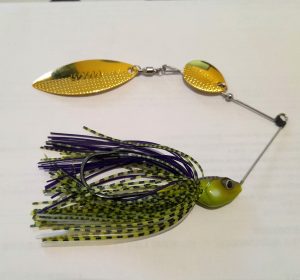 Due to the enormous amount of tree and bush cover I do not recommend the use of trailer hooks. As for weights, the half ounce will be as usual the most versatile, but when fishing areas with a lot of cover and / or shallow fish we can go down to 3/8. The average size of bass in Alqueva is not very big, most of the catches will be between 1/2 kg and kg, so sizes should be moderate. This is also valid for the crank. Likewise if we are looking for barbel or catfish, whose catches are very frequent in this reservoir. We can also catch zander or pike, but for these two species the ideal is usually to look for them deeper with other lures.
In terms of colors, Alqueva is a reservoir in which there is an abundance of albacore, but also small cyprinids. Many times we will see "balls" of small cyprinids and fry of the very abundant catfish. Any color that imitates a "shad" will work well, and may change to bright colors in the water.
Chatterbait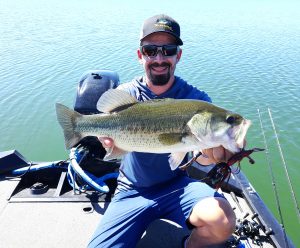 Despite not having fished too many days on this reservoir, a good part of the "quality" fish I've caught here have been with this lure. I've mainly used moderate sizes of chatterbaits and trailers, because the average size of the fish is not very big. The crawfish colors are the ones that have worked the best for me, mainly in weed areas.
The chatterbait will also give us very good results with other predator species: barbel, zander and catfish will swallow them if we pass them in front of us. Due to the enormous amount of cover in this reservoir: weeds, trees, rocks… we must work this lure with a lot of skill so as not to be constantly hooking it. Here again, the 3/8 ounces will help us to have fewer hook-ups.
Vinil crawfish, top lures for Alqueva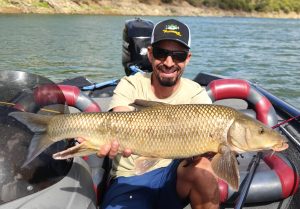 As in any other reservoir, if we want to make numbers, vinyl will be one of the top lures for Alqueva. I chose the crawfish, but I could also have used a worm, as both types of vinyl have given me very similar results. Drop shot, split shot, shakey… In moderate sizes and by working the vinyl slowly along the bottom we will have the best results.
As for shapes and colors, it is up to the consumer. Generally, Alqueva waters are usually quite muddy, so craws with "ultravibe" type vibrating blades usually help the fish to locate the vinyl better. If we fish closer to the dam, the water is usually cleaner and it is not usually "necessary" to use this type of craws. As far as colors are concerned, the usual: dark colors in taken waters to make contrast: black red, black blue… and natural colors in clearer waters. Normally it is not necessary to fish very deep, unless we fish in the middle of winter.
I hope all this will help you to face your fishing days in this great reservoir. It is not a reservoir where you are going to catch your record blackbass but you can spend very entertaining multi-species days.